Swedish tramway cities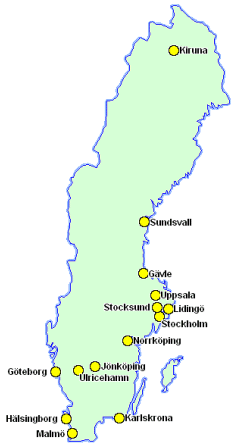 Fourteen cities in Sweden have had electric tramways. Of these, there has been service in thirteen cities; the tramway in Ulricehamn was never opened after an accident during test running. An additional six towns have had horse tramways. In order to provide information about Sweden's tram systems, we have chosen to create this page, with condensed information about Sweden's tram cities.
(
cities in italic
= only swedish pdf-sheet)
Explanation
Adobe Acrobat
Each city is shown as a page in PDF format, and contains a map of the system at its greatest extent, as well as information about the tramcars that have run on the system through the years. A short chronology is given, usually as a table showing important dates in the history of the tramway. A horizontal line shows which events occurred before and after the point in time represented on the map. All maps show coastlines as they are in the 1990s.
Get Acrobat Reader
The tramcar tables show car numbers, manufacturer, type, year delivered, type designation (internal to the tramway company), and any other relevant data. The type is shown according to the standard used in tramway books published by Blickpunkt Strassenbahn, e.g. 2xZR.
This means:
2x = 2-axle car (the number shows the number of axles)
ZR = double-ended car (Zweirichtung)
Other designations used:
ER = single-ended car (Einrichtungswagen)
Gel = articulated car (Gelenkwagen)
NfV = 100% low-floor car (Niederflur)
NfT = partial low floor
NfM = low floor in center part
The material for the fact sheets is primarily taken from the series about Sweden's tramways published in Koltåget, the newsletter of the Malmö chapter of the Swedish Tramway Society, from 1976 to 1980. This series showed sketches of the rolling stock in each city, as well as maps at ten-year intervals from 1910 forward. All city maps were in a 1:50000 scale. The material from this series may form the basis for a future publication, but till then, enjoy the fact sheets you'll find on this page!
© 1998-2023 catalogue and fact sheets: PG Andersson. pg@mss.se


© 1998-2023 english translation: Tim Kynerd.
For more facts about trolleybuses, underground etc, see Spårvägssällskapet Atlas
For more facts about car types, see Spårvägssällskapet Depot



Denna sida på svenska


Diese Seite auf Deutsch