The Swedish Tramway Society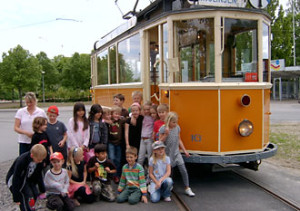 Svenska Spårvägssällskapet, founded in 1959, is a volunteer orgaization whose purpose is to gather all who are interested in Swedish urban transport, its history and development.
Those of us who keep the museum tramways in Malmköping, Malmö and Djurgårdslinjen in central Stockholm running do so in our spare time. This is our alternative to playing league football, collecting stamps, or singing in a chorus. You and your family are welcome to join Svenska Spårvägssällskapet. You'll meet people of all ages and occupations. The common denominator is an interest in rail traffic.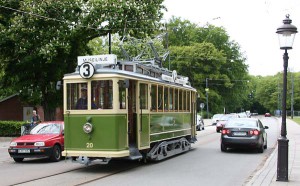 The museum tramways
Since 1969, we've been developing the Swedish Urban Transport Museum in Malmköping. On Djurgårdslinjen (the Djurgården Line), we've had about five million passengers since the beginning of 1991. In 1996, we celebrated the 90-year anniversary of the electrification of the Malmö tramway. With local chapters also in the west, south, and north, there's a place and a job for you if you want to make a contribution.
You can become a conductor, or work with information and sales, if you enjoy contact with people. Later, you can train as a tram driver and operate our vintage trams yourself. Become an active member of Svenska Spårvägssällskapet.
Become a member!
Your membership gives you free rides on the museum tramways in Malmköping and Malmö, and on Djurgårdslinjen. You'll receive two information-packed members' magazines, with news and retrospectives of tram service both in Sweden and abroad. You'll be invited to lectures, film nights, excursions, and more. Recently, a group of our members traveled around the world! Check our calendar for events.
Even if you don't want to operate trams yourself, you and your family will get much enjoyment from your membership!