SS(2) B31C
AB Stockholms Spårvägar class B31C no 618
"cafévagnen"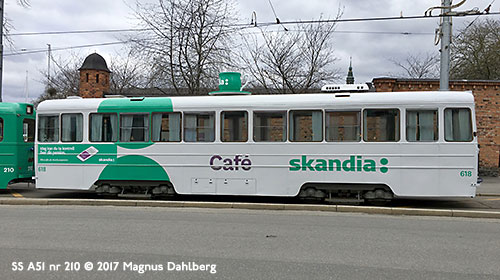 © Magnus Dahlberg
data for the class B31C "cafévagnen"
Vehicle:
trailer car, boggie
Class:
4-axled single-ended (4xER)
Company:
AB Stockholms Spårvägar (SS(2))
Town:
Stockholm
Line:
Djurgårdslinjen
Class:
B31C "cafévagnen"
Car number:
618
Built number:
1
Manufacturer:
Hägglund 1949
Gauage (mm):
1435
Length (mm):
13100
Width (mm):
2500
Height (mm):
3200
Weight (kg):
12000
Axel arrangement:
2'2'
Wheelbase (mm):
1800+4200
Boggie center base (mm):
6000
Wheel diameter (mm):
680
Wheel tread width (mm):
90
Type of motor:
Motor power (kW):
Type of controller:
Type of coupling:
albert
Compressor:
Atlas-Copco NE3
Operating current:
Max speed (km/h):
Door arrangement:
H 2-000-1
Number of passengers:
34 seating = 34 passengers
Out of service:
Note:
fd GS S27 434, ombyggd 1997 till Cafévagn av Vestfold Bil & Karosseri
The history of the class (only in Swedish):
Vagnen var ursprungligen släpvagn till Göteborgsmustangerna, i Stockholm kallade A31 med nummer 328-333. När det blev högertrafik i Sverige 1967, drog man helt enkelt dessa släpvagnar baklänges så att dörrarna därigenom kom på rätt sida. Sätena vändes efter hand. I Göteborg hade vagnarna littera S27. Läs mer om de övriga B31:orna.

Se även B31.


Before this
GS S27 "mustang"

Tram depot list

Linjekartor, historik mm