SS(2) A31
AB Stockholms Spårvägar class A31 no 328-333
"mustang"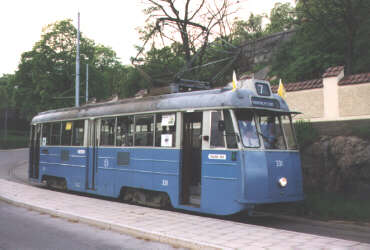 © Bruse LF Persson
data for the class A31 "mustang"
Vehicle:
motor car, boggie
Class:
4-axled single-ended (4xER)
Company:
AB Stockholms Spårvägar (SS(2))
Town:
Stockholm
Line:
Djurgårdslinjen
Class:
A31 "mustang"
Car number:
328-333
Built number:
6
Manufacturer:
Hägglund 1947-1949
Staffing:
fast konduktör
Gauage (mm):
1435
Length (mm):
13050
Width (mm):
2500
Height (mm):
3100
Weight (kg):
15370
Axel arrangement:
Bo'Bo'
Wheelbase (mm):
1800+4100
Boggie center base (mm):
5900
Wheel diameter (mm):
680
Wheel tread width (mm):
90
Type of motor:
Hägglund MBL 15
Motor power (kW):
4x50
Type of controller:
Hägglund & Söner CBKM-2, kamvals
Type of coupling:
albert
Compressor:
Atlas Copco NE3
Operating current:
Max speed (km/h):
Door arrangement:
H 1-010-2
Number of passengers:
31 seating + 74 standing = 105 passengers
Out of service:
Note:
The history of the class (only in Swedish):
"Göteborgsmustang" i trafik på Djurgårdslinjen från 1991.
Före detta Göteborgs Spårvägar M23 nr 12 (330), 14 (328), 18 (331), 19 (329), 25 (332) samt nr 30 (333).
Ombyggda för högertrafik 1967.

Vagnarna är ursprungligen från Göteborg, men inköptes 1988 av SL för att användas i trafik på Djurgårdslinjen. Svenska Spårvägssällskapet fick 1995 köpa dessa av SL för en symbolisk summa av 1 krona styck! De är byggda 1949 av ASEA och Hägglunds. Till sitt utseende liknar de stockholmsmotorvagnarna som hade smeknamnet "Mustanger" och som gick i trafik mellan 1945 och 1967. Göteborgsmustangerna är dock bredare samt ombyggda för högertrafik. I Göteborg hade de littera M23. Till dessa motorvagnar bukar kopplas släpvagnarna typ B31 nummer 615, 616, 617 och 618 (cafésläpvagnen).


Before this
GS M23 "mustang"

Tram depot list

Linjekartor, historik mm