SS B19
AB Stockholms Spårvägar class B19 no 779-868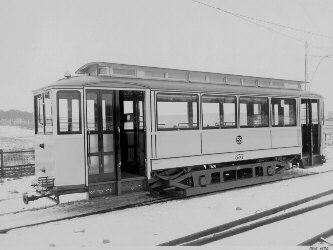 © Stockholms Spårvägsmuseum
data for the class B19
Vehicle:
trailer car
Class:
2-axled double-ended (2xZR)
Company:
AB Stockholms Spårvägar (SS)
Town:
Stockholm
Class:
B19
Car number:
779-868
Built number:
90
Manufacturer:
ASEA, Falun, Råsunda 1925-1929
Staffing:
rörlig konduktör
Gauage (mm):
1435
Length (mm):
11300
Width (mm):
2230
Height (mm):
3360
Weight (kg):
8700
Axel arrangement:
2
Wheelbase (mm):
2700
Boggie center base (mm):
Wheel diameter (mm):
850
Wheel tread width (mm):
85
Type of motor:
Motor power (kW):
Type of controller:
Type of coupling:
albert
Compressor:
Operating current:
Max speed (km/h):
Door arrangement:
VH 2-000-2
Number of passengers:
24 seating + 39 standing = 63 passengers
Out of service:
Note:
The history of the class (only in Swedish):
Leverantörer: nr 779-813 ASEA, nr 814-838 Falun, nr 839-868 Råsunda.
Nr 779-813 vikt 9,2 ton.
Pga viktskillnaden användes före 1930 beteckningen B19a för vagnar levererade från Råsunda.
Vagn 865 ombyggd 1942 efter olyckshändelse, fick tak som B20.
Bevarad vagn: nr 846 på Djurgårdslinjen.