SS B19 846
AB Stockholms Spårvägar class B19 no 846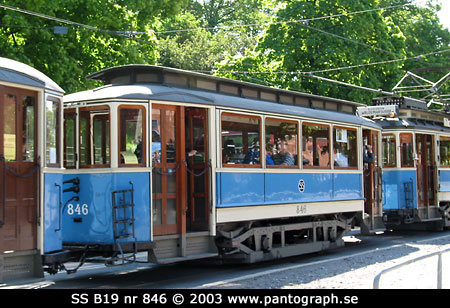 © Bruse LF Persson
data for rail vehicle 846
Vehicle:
trailer car
Class:
2-axled double-ended (2xZR)
Manufacturer:
SS 1929-01-30
Colour:
blå/vit
Last renevation:
You must log in to see this field.
Operation category:
You must log in to see this field.
Preservation category:
You must log in to see this field.
Owner:
SSS
Housed:
Djurgårdslinjen
Museum year:
1963


data for the class B19
Vehicle:
trailer car
Class:
2-axled double-ended (2xZR)
Company:
AB Stockholms Spårvägar (SS)
Town:
Stockholm
Class:
B19
Car number:
779-868
Built number:
90
Manufacturer:
ASEA, Falun, Råsunda 1925-1929
Staffing:
rörlig konduktör
Gauage (mm):
1435
Length (mm):
11300
Width (mm):
2230
Height (mm):
3360
Weight (kg):
8700
Axel arrangement:
2
Wheelbase (mm):
2700
Boggie center base (mm):
Wheel diameter (mm):
850
Wheel tread width (mm):
85
Type of motor:
Motor power (kW):
Type of controller:
Type of coupling:
albert
Compressor:
Operating current:
Max speed (km/h):
Door arrangement:
VH 2-000-2
Number of passengers:
24 seating + 39 standing = 63 passengers
Out of service:
Note:
The history of the rail vehicle (only in Swedish):
Vagnen inköpt av SSS 24 juli 1963 från AB Stockholms Spårvägar.

Vagnen är trafikvagn på Djurgårdslinjen. Den ingår i bevarandeklass II i Svenska Spårvägssällskapets samlingar.

Vagntypen byggdes av tre olika tillverkare således byggdes 779-813 av ASEA, 814-838 av Vagn- och maskinfabriken i Falun samt 839-868 av SS Råsunda.

Vagntypen byggdes för att passa till de ombyggda motorvagnarna litt A1 och A3. Den är snarlik SS litt B20. Skillnaden är att B19 har lanternintak medan B20 har slätt tak. B19 användes på alla Stockholms innerstadslinjer.

Inköpt av SSS 1963 07 24 från AB Stockholms Spårvägar för 200: .
Inför övertagandet av vagnen skiftade SS truck mellan vagn 846 och 844.
Uppställd på järnvägsspår i Karlberg oktober 1963, uppställd i Högdalen 1966 05 08. Transport Hammarby Norra Station per vagnbjörn. Transport Norra Station Karlberg och åter på egna hjul tillsammans med SS 11 och SS 915. Dragkraft SJ el och diesellok. Transport Norra Station Högdalen per vagnbjörn.
Transporterad till SL:s verkstäder i Hammarby 1968 03 30 per vagnbjörn. Revision påbörjades dock aldrig på grund av penningbrist.
Transporterad till Malmköping 1970 12 01 per trailer.
Deponerad hos Stockholmsavdelningen, 1989 08 22 t o m 1999 08 21.
Transporterad till AGA (Lidingö), per trailer, 1989 05 29.
Storrevision påbörjad hösten 1989 och avslutad 1994 05 29 kl 10.00.
Invigd av Hasse Alfredsson 1994 05 29 kl 13.00.
Transporterad till Alkärrshallen (Djurgården) per trailer 1991 11-14.

available as a PDF sheet
The history of the class (only in Swedish):


Leverantörer: nr 779-813 ASEA, nr 814-838 Falun, nr 839-868 Råsunda.
Nr 779-813 vikt 9,2 ton.
Pga viktskillnaden användes före 1930 beteckningen B19a för vagnar levererade från Råsunda.
Vagn 865 ombyggd 1942 efter olyckshändelse, fick tak som B20.
Bevarad vagn: nr 846 på Djurgårdslinjen.


More about the class
SS B19