HSS A1 11
Helsingborgs Stads Spårvägar class A1 no 11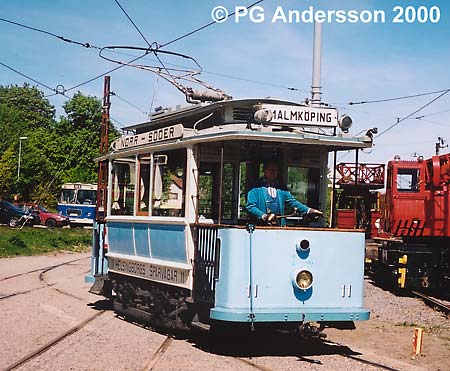 © PG Andersson
data for rail vehicle 11
Vehicle:
motor car
Class:
(2xZR)
Manufacturer:
ASEA 1903
Colour:
blå/vit
Last renevation:
1953
Rebuilt:
Owner:
HTMF
Housed:
Malmköping
Museum year:
Note:
fd HSS litt A1 nr 17
Operation category:
I (ready for operating use)
Preservation category:
2 (other museum vehicles)
Deposited with the:
Svenska Spårvägssällskapet


data for the class A1
Vehicle:
motor car
Class:
2-axled double-ended (2xZR)
Company:
Helsingborgs Stads Spårvägar (HSS)
Town:
Helsingborg
Class:
A1
Car number:
11-20
Built number:
10
Manufacturer:
ASEA, Siemens 1903
Staffing:
rörlig konduktör
Gauage (mm):
1435
Length (mm):
8200
Width (mm):
2100
Height (mm):
3770
Weight (kg):
8500
Axel arrangement:
Bo
Wheelbase (mm):
1700
Boggie center base (mm):
Wheel diameter (mm):
800
Wheel tread width (mm):
90
Type of motor:
Siemens & Halske D541
Motor power (kW):
42
Type of controller:
Siemens & Halske DR CV
Type of coupling:
albert
Compressor:
Operating current:
Max speed (km/h):
Door arrangement:
öppna plattformar med grindar
Number of passengers:
16 seating + 14 standing = 30 passengers
Out of service:
Note:
The history of the rail vehicle (only in Swedish):
Vagnen deponerad hos SSS den 26 oktober 1992 av Helsingborgstrafikens Museiförening. Vagnen är trafikvagn i Malmköping. Den ingår i bevarandeklass II.

Vagnen levererades med öppna plattformar 1903 och fick redan 1906-07 förarskydd. 1939 byggdes plattformarna in helt. I detta utförande gick vagnen i trafik fram till 50-talet.

I samband med 50-årsjubileet 1953 återställdes vagnen i ursprungligt skick. Vagnen omnumrerades i detta sammanhang från 17 till 11. Vagnen är således inte Helsingborgs första spårvagn!

Vagnen är ASEAs mindre standardtyp som även fanns i Uppsala och Jönköping. Den elektriska utrustningen levererades dock av Siemens o Halske medan ASEA svarade för korg och truck.

Deponerad hos SSS 1992-10-26 av Helsingborgstrafikens Museiförening.
Transporterad per trailer från Helsingborg till Malmköping 1992-10-27.
Kontrollera försedda med rörelseomvandlare i maj 1993.
Besiktigad och godkänd av Järnvägsinspektionen 1993-05-19.

Fact sheet car HSS 11

More about the class
HSS A1