GS M20 186
Göteborgs Spårvägar class M20 no 186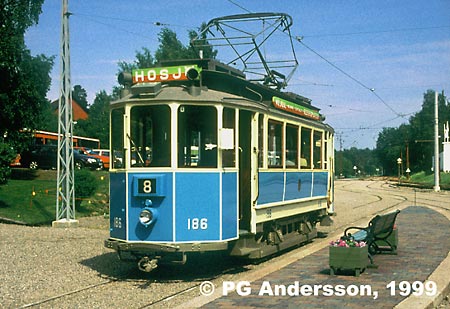 © PG Andersson
data for rail vehicle 186
Vehicle:
motor car
Class:
(2xZR)
Manufacturer:
GS 1930
Colour:
blå/créme
Last renevation:
1950-02-15
Rebuilt:
Owner:
SSS
Housed:
Malmköping
Museum year:
1963
Note:
även kallad M9
Operation category:
I (ready for operating use)
Preservation category:
2 (other museum vehicles)
Deposited with the:


data for the class M9
Vehicle:
motor car
Class:
2-axled double-ended (2xZR)
Company:
Göteborgs Spårvägar (GS)
Town:
Göteborg
Class:
M9
Car number:
178-188
Built number:
11
Manufacturer:
GS 1927-1930
Staffing:
rörlig konduktör
Gauage (mm):
1435
Length (mm):
11010
Width (mm):
2150
Height (mm):
3800
Weight (kg):
12800
Axel arrangement:
Bo
Wheelbase (mm):
2600
Boggie center base (mm):
Wheel diameter (mm):
Wheel tread width (mm):
80
Type of motor:
AEG US 521
Motor power (kW):
2x41
Type of controller:
AEG FBv SP 80 koppling 1
Type of coupling:
albert
Compressor:
Operating current:
Max speed (km/h):
40
Door arrangement:
VH 1-000-1
Number of passengers:
19 seating + 38 standing = 57 passengers
Out of service:
1961
Note:
även typ M20, tvärsittsmotorvagn
The history of the rail vehicle (only in Swedish):
Vagnen donerad till SSS 8 november 1963 av Göteborgs Spårvägar.

Vagnen är trafikvagn i Malmköping. Den ingår i bevarandeklass II i Svenska Spårvägssällskapets samlingar.

Från 1927 infördes tvärsäten i Göteborg, och en unik finess med dessa tvärsäten var att ryggstöden är vändbara så att ingen behöver åka baklänges! 186 ingick i en serie på 11vagnar som byggdes på egen verkstad 1927-1930 och sattes i trafik på linje 3.

Vagnen har littera M20 i GS system och M9 i Industrimuseets system.

Vagn 186 har renoverats i olika omgångar sedan 1979 och sätts i totalrenoverat skick i trafik 1999.

Donerad till SSS 1963 11 08 av Göteborgs Spårvägar.
Uppställd vagnhallen Majorna, Göteborg. Målad utvändigt av Göteborgsavdelningen 1964-1965.
Använd vid utfärd i Göteborg 1964-04-19.
Transporterad per järnväg till Malmköping 1967-10-21.
Fullständigt ommålad utvändigt vintern 1973-1974.
Truckrevision påbörjad 1979 samt korgrevision påbörjad oktober 1982 och avslutad december 1998.
Besiktigad och godkänd av Vägverket 1979-07-13.
Största tillåtna hastighet vid besiktning 1951-01-30 40 km/t.

Fact sheet car GS 186
The history of the class (only in Swedish):
De här 11 motorvagnarna tillverkades på GS egen verkstad. Vagnarna hade bredare vagnskorg och tvärbänkar.

Nr 178-182 tillverkade 1927-28.
Nr 183-188 tillverkade 1930.

Vagnarna var i trafik fram till 1961, sista åren som extravagnar.

Nr 187 ombyggdes på prov till enriktningsvagn 1949-50, vagnen rullade sedan på linje 7 fram till 1951. Sedan som extravagn till 1956 och skrotades 1957.

Nr 186 bevarad i Malmköping som museivagn.


More about the class
GS M9