SRJ 52
Stockholm-Roslagens Järnvägar no 52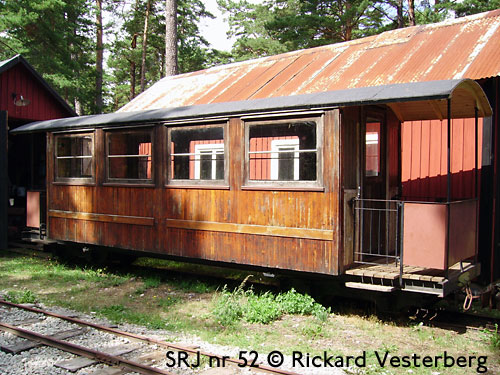 © Rickard Vesterberg
data for rail vehicle 52
Vehicle:
motor car
Class:
Manufacturer:
Arlöf, AEG 1911
Colour:
Last renevation:
Owner:
Böda Skogsjärnväg
Housed:
Böda Skogsjärnväg
Museum year:
Note:
Stocksund


data for the class (mv)
Vehicle:
motor car
Class:
Company:
Stockholm-Roslagens Järnvägar (SRJ)
Town:
Stocksund
Line:
Långängsbanan
Class:
(mv)
Car number:
51-52
Built number:
2
Manufacturer:
Arlöf, AEG 1911
Gauage (mm):
1435
Length (mm):
10500
Width (mm):
2000
Height (mm):
Weight (kg):
13200
Axel arrangement:
Bo
Wheelbase (mm):
3300
Boggie center base (mm):
Wheel diameter (mm):
Wheel tread width (mm):
Type of motor:
Motor power (kW):
2x40
Type of controller:
Type of coupling:
Compressor:
Operating current:
Max speed (km/h):
30
Door arrangement:
Number of passengers:
24 seating + 17 standing = 41 passengers
Out of service:
1934
Note:
Stocksund
The history of the rail vehicle (only in Swedish):
Vagnskorgen tjänstgjorde som bikupa när den räddades och hamnade då på Sollentuna Enskilda Järnväg (SEJ) i Viby, Sollentuna norr om Stockholm. Där fick korgen en nytillverkad ram under korgen samt boggier från Jönköping-Gripenbergs Järnväg (JGJ) med 600 mm spårvidd. Vagnen användes sällan på SEJ och när SEJ lades ned 1996 så flyttades vagnen till Böda Skogsjärnväg (BÖSJ) på Öland. Där har vagnens koppel sänkts för att anpassas för BÖSJ. Vagnen har också fått ett nytt tak. Vagnen används sällan i trafiken utan endast i speciella sammanhang.
The history of the class (only in Swedish):
Normalspåriga vagnar för anslutninglinjen Stocksund-Långängstorp. Även använda (inhyrda) på Södra Lidingöbanan (SSLidJ) 1914 och 1916. Sålda 1934 till Lidingö trafik AB (LiB), men aldrig använda i persontrafik där.


More about the class
SRJ (mv)