MSS 100
Malmö Stads Spårvägar no 100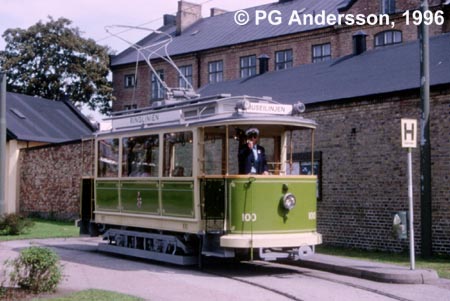 © PG Andersson
data for rail vehicle 100
Vehicle:
motor car
Class:
Manufacturer:
Kockums 1906
Colour:
Last renevation:
Rebuilt:
Owner:
Malmö Tekniska Museum
Housed:
Malmö
Museum year:
Operation category:
I (ready for operating use)
Deposited with the:
SSS Malmöavdelning
Status:
traffic carriage


data for the class (mv)
Vehicle:
motor car
Class:
Company:
Malmö Stads Spårvägar (MSS)
Town:
Malmö
Class:
(mv)
Car number:
100
Built number:
1
Manufacturer:
Kockums 1906
Gauage (mm):
1435
Length (mm):
8400
Width (mm):
2000
Height (mm):
3290
Weight (kg):
10300
Axel arrangement:
Bo
Wheelbase (mm):
1750
Boggie center base (mm):
Wheel diameter (mm):
800
Wheel tread width (mm):
Type of motor:
Motor power (kW):
59
Type of controller:
Type of coupling:
Compressor:
Operating current:
Max speed (km/h):
Door arrangement:
Number of passengers:
20 seating + 20 standing = 40 passengers
Out of service:
Note:
The history of the rail vehicle (only in Swedish):
Byggd 1906 som provvagn av Kockums.

Renoverades 1988-1996 till det utseende den sannolikt hade vid leverans 1906.

Tillverkad av Kockums 1906 som provmotorvagn till Spårvägsaktiebolaget. Vagn 100 är den enda elektriska spårvagn som Kockums har tillverkat. Ursprungligen var den målad i gult enligt samma färgsättning som hästspårvagnen som finns på Tekniska Museet.

Vagn 100 gick i ordinarie passagerartrafik under en mycket kort period, hade öppna plattformar, långbänkar och gardiner. Senare målades den om i grönt, på samma sätt som övriga el-spårvagnar. Så småningom gjordes den om till rangervagn innan den blev redskapsvagn och skenslipningsvagn.

Som redskapsvagn användes vagn 100 ända fram till spårvägsnedläggelsen i april 1973.

Fact sheet car MSS 100

More about the class
MSS (mv)