HSS F1 43
Helsingborgs Stads Spårvägar class F1 no 43
"mustang"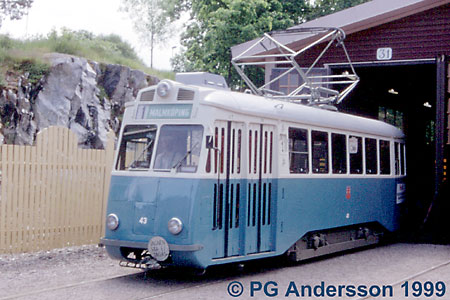 © PG Andersson
data for rail vehicle 43
Vehicle:
motor car "mustang"
Class:
2-axled single-ended (2xER)
Manufacturer:
ASEA 1948
Colour:
blå/vit
Last renevation:
You must log in to see this field.
Operation category:
You must log in to see this field.
Preservation category:
You must log in to see this field.
Owner:
SSS
Housed:
Malmköping
Museum year:
1973
Status:
You must log in to see this field.


data for the class F1 "mustang"
Vehicle:
motor car
Class:
2-axled single-ended (2xER)
Company:
Helsingborgs Stads Spårvägar (HSS)
Town:
Helsingborg
Class:
F1 "mustang"
Car number:
41-45
Built number:
5
Manufacturer:
ASEA 1948
Staffing:
enmansbetjänad
Gauage (mm):
1435
Length (mm):
11400
Width (mm):
2200
Height (mm):
3500
Weight (kg):
11850
Axel arrangement:
Bo
Wheelbase (mm):
2700
Boggie center base (mm):
Wheel diameter (mm):
780
Wheel tread width (mm):
95
Type of motor:
ASEA LJB27-32
Motor power (kW):
2x55
Type of controller:
ASEA CBK44, kamvals
Type of coupling:
albert
Compressor:
Stal PV-212
Operating current:
Max speed (km/h):
50
Door arrangement:
V 2-000-0, reservdörr höger sida bak
Number of passengers:
26 seating + 44 standing = 70 passengers
Out of service:
Note:
The history of the rail vehicle (only in Swedish):
Donerad till SSS hösten 1973 av Helsingborgs Stads Trafikverk.
Transporterad till Malmköping 1974-02-16--17 per trailer.
Bidrag till transporten av denna vagn samt HSS 25, 29, 39 och 105 erhölls med 10000: av Helsingsborgs kommun.
Vagnen vänd 1983-11-11, A ände mot Hosjö.
Ombyggd av signalsystem, utvändig målning samt invändig fernissning och målning, korgrevision, november 1992 - maj 1993.
Besiktigad och godkänd av Vägverket 1984-06-12.
Största tillåtna hastighet med hänsyn till drivanordningen vid besiktning 1952-06-03 50 km/t.

available as a PDF sheet
The history of the class (only in Swedish):
Vagnen är av ASEA lilla mustang typ som levererades i två serier till Helsingborg. Vagnarna 41-45 hade litt F1 och levererades 1948 medan vagnarna 46-55 hade litt F2 och levererades 1949. Samma typ av mustang levererades även till Norrköping (M48 och M51).

Vagntypen trafikerade linjerna 1 och 3 fram till trafiken nedlades i Helsingborg den 2 september 1967.

Några obetydliga skärmar på väggarna i vagnens inre delade den bakre rökar avdelningen från den främre rökfria avdelningen!


More about the class
HSS F1 "mustang"