HSS E 39
Helsingborgs Stads Spårvägar class E no 39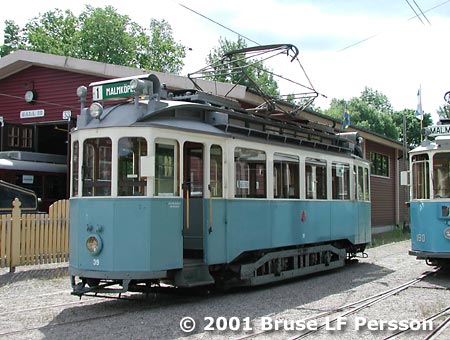 © Bruse LF Persson
data for rail vehicle 39
Vehicle:
motor car
Class:
Manufacturer:
ASEA 1928
Colour:
blå/vit
Last renevation:
1962-10-24
Rebuilt:
Owner:
SSS
Housed:
Malmköping
Museum year:
1973
Operation category:
I (ready for operating use)
Preservation category:
2 (other museum vehicles)
Deposited with the:
Status:
traffic carriage


data for the class E
Vehicle:
motor car
Class:
Company:
Helsingborgs Stads Spårvägar (HSS)
Town:
Helsingborg
Class:
E
Car number:
38-40
Built number:
3
Manufacturer:
ASEA 1928
Gauage (mm):
1435
Length (mm):
10900
Width (mm):
2112
Height (mm):
3850
Weight (kg):
12575
Axel arrangement:
Bo
Wheelbase (mm):
2400
Boggie center base (mm):
Wheel diameter (mm):
750
Wheel tread width (mm):
95
Type of motor:
Siemens Dy551a
Motor power (kW):
2x45,7
Type of controller:
Siemens-Schuckert 0F38, kamvals
Type of coupling:
albert
Compressor:
Operating current:
Max speed (km/h):
40
Door arrangement:
V 1-000-0, H 0-000-1
Number of passengers:
24 seating + 21 standing = 45 passengers
Out of service:
Note:
38 ombyggd 1955 till enriktningsvagn
The history of the rail vehicle (only in Swedish):
Donerad till SSS hösten 1973 av Helsingborgs Stads Trafikverk.
Transporterad till Malmköping per trailer 1974-02-16 17.
Bidrag till transporten av denna vagn samt HSS 25, 29, 43 och 105 erhölls med 10000: av Helsingborgs kommun.
Kontrollerna försedda med rörelseomvandlare våren 1978.
Verkstadsöversyn utförd februari maj 1978.
Ombyggnad av signalsystem samt utvändig målning 1988 april 1991.
Besiktigad och godkänd av Vägverket 1979-07-13.
Största tillåtna hastighet med hänsyn till drivanordningen vid besiktning 1952-06-03 40 km/t.

Fact sheet car HSS 39
The history of the class (only in Swedish):
Tre vagnar av denna typ inköptes år 1928 som en fortsättning på de vagnar som levererades 1921 av Norddeutsche Waggonfabrik i Bremen.
Vagn 38 ombyggdes till enriktnings 1955 och fick smeknamnet "mulåsnan" pga av sitt udda utseende med E-vagn i ena änden, ombyggd i den andra till något F-liknande.


More about the class
HSS E