GS S27 423
Göteborgs Spårvägar class S27 no 423
"mustang"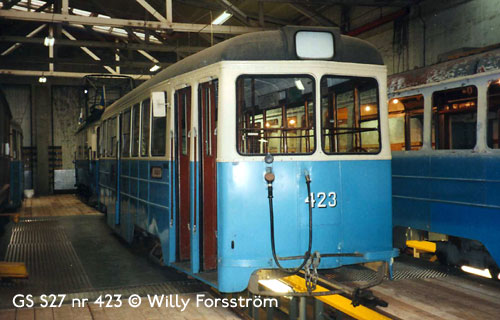 © Willy Forsström
data for rail vehicle 423
Vehicle:
trailer car "mustang"
Class:
Manufacturer:
Hägglunds 1950
Colour:
Last renevation:
Owner:
Göteborgs stad
Housed:
Ringlinien
Museum year:


data for the class S27 "mustang"
Vehicle:
trailer car
Class:
Company:
Göteborgs Spårvägar (GS)
Town:
Göteborg
Class:
S27 "mustang"
Car number:
401-470
Built number:
70
Manufacturer:
Hägglund 1948-1954
Staffing:
fast konduktör
Gauage (mm):
1435
Length (mm):
13100
Width (mm):
2500
Height (mm):
Weight (kg):
12000
Axel arrangement:
2'2'
Wheelbase (mm):
1800+4200
Boggie center base (mm):
6000
Wheel diameter (mm):
680
Wheel tread width (mm):
Type of motor:
Motor power (kW):
Type of controller:
Type of coupling:
albert
Compressor:
Operating current:
Max speed (km/h):
Door arrangement:
Number of passengers:
38 seating + 67 standing = 105 passengers
Out of service:
1975
Note:
Tidigare typbeteckning SB25
The history of the class (only in Swedish):
Mustangsläpvagnar, de enda av boggityp i Göteborg. Omfattade 70 vagnar nr 401-470.

S27 skaffades för att kopplas efter motorvagnar typ M22 och M23, de kom i tre omgångar:

1948 nr 401-410 påminde om de första M23:orna, samma boggityp och kantiga fönster.

1950 nr 411-435 rundade fönster hörn och ny boggityp.

1953-54 nr 436-470 linjeskylt i takkanten, destinations skylt utvändigt baktill och dörrbrunnen hade tre fotsteg.

1954-57 ombyggdes 401-435 till samma utförande som nr 436-470, d v s med linjeskylt, destinationsskylt och av fotsteg.

Vagnarna 401-410 ombyggdes inte till högertrafik, utan sändes efter 1967 till skrot. Övriga 60 S 27 ombyggdes till högertrafik. Efter 1970 rullade de enbart som extravagnar och togs ur trafik 1975.

11 st S27 såldes till Oslo.

3 st S27 såldes till Djurgårdslinjen.

Som museivagn i Göteborg finns nr 423, dessutom finns 422, 425 och 427 i förvar hos Ringlinien.


More about the class
GS S27 "mustang"