BSAB (mv)
Brändö Spårvägsaktiebolag class (mv) no 1-2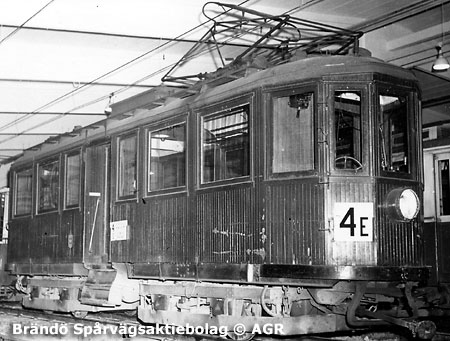 © Anders G Rehnström
data for the class (mv)
Vehicle:
motor car
Class:
4-axled double-ended (4xZR)
Company:
Brändö Spårvägsaktiebolag (BSAB)
Town:
Helsingfors
Class:
(mv)
Car number:
1-2
Built number:
2
Manufacturer:
ASEA, AEG 1917
Gauage (mm):
1000
Length (mm):
11500
Width (mm):
2150
Height (mm):
Weight (kg):
17500
Axel arrangement:
Bo'Bo'
Wheelbase (mm):
1520
Boggie center base (mm):
5000
Wheel diameter (mm):
Wheel tread width (mm):
Type of motor:
Motor power (kW):
4x22,1
Type of controller:
Type of coupling:
Compressor:
Operating current:
Max speed (km/h):
Door arrangement:
Number of passengers:
28 seating + 14 standing = 42 passengers
Out of service:
Note:
The history of the class (only in Swedish):
Vagnarna byggdes färdiga redan år 1917, men på grund av första världskriget, revolutionen i Ryssland och inbördeskriget i Finland år 1918 levererades vagnarna först 1919.

HSO köpte banan, vagnarna och koncessionen år 1928, vagnarna blev:
HRO/HSO 1-2
1943: HRO/HSO 113-114
1945: HKL/HST 68-69.

Trafiken bedrevs redan från början av HRO/HSO - till en större del användes HRO/HSO-vagnar, detta gällde även de två av BS ägda vagnar.
HRO/HSO och HKL/HST trafikerade linjen till Brändö fram till nedläggningen år 1950.

M. G. Stenius Oy

Bolaget ägde linjerna från Helsingfors till Haga och Munksnäs åren 1914-1926, HRO/HSO köpte linjerna 1.1.1927. HRO/HSO bedrev trafiken och använde enbart sina egna vagnar på linjen. Stenius-bolaget hade nog en egen elektrisk lokomotiv (byggd av ASEA år 1915, två axlar) för sin egen lokala godstrafik.