SL X2p
AB Storstockholms Lokaltrafik class X2p no 32-34
"träburkar"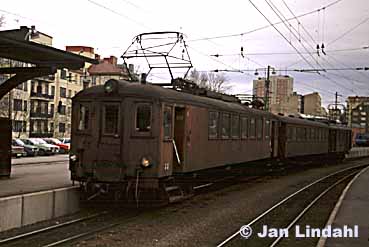 © Jan Lindahl
data for the class X2p "träburkar"
Vehicle:
suburban motor car
Class:
Company:
AB Storstockholms Lokaltrafik (SL)
Town:
Stockholm
Line:
Roslagsbanan
Class:
X2p "träburkar"
Car number:
32-34
Built number:
3
Manufacturer:
ASEA 1918-1919
Gauage (mm):
891
Length (mm):
17950
Width (mm):
Height (mm):
Weight (kg):
30000
Axel arrangement:
Bo'Bo'
Wheelbase (mm):
1910
Boggie center base (mm):
10900
Wheel diameter (mm):
830
Wheel tread width (mm):
Type of motor:
Motor power (kW):
260
Type of controller:
Type of coupling:
Compressor:
Operating current:
1500 V DC
Max speed (km/h):
60
Door arrangement:
Number of passengers:
56 seating = 56 passengers
Out of service:
1975
Note:
Roslagsbanan.
The history of the class (only in Swedish):
"Träburkar", fd SRJ motorvagn nr 15-17, fd SJ Xoa2p 2015-2017. Träkorg med träpanel.

1942 renoverades vagnen invändigt, bla spikades pärlsponten över. 1946 fick vagnen ett elsystem anpassat för 1500 V. Boggierna fick nya motorer.

Vagn 32 ur trafik 1971 och vagn 34 1975., ej övertagen av SL. Bevarad vagn: vagn nr 33 i veterantåg.