SL UBp (II)
AB Storstockholms Lokaltrafik class UBp (II) no 801-832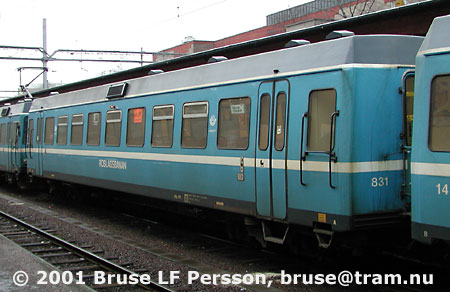 © Bruse LF Persson
data for the class UBp (II)
Vehicle:
suburban intermediate car
Class:
4-axled single-ended (4xER)
Company:
AB Storstockholms Lokaltrafik (SL)
Town:
Stockholm
Line:
Roslagsbanan
Class:
UBp (II)
Car number:
801-832
Built number:
32
Manufacturer:
ABB Railcar 1988-1995
Gauage (mm):
891
Length (mm):
19900
Width (mm):
2600
Height (mm):
3550
Weight (kg):
15800
Axel arrangement:
2'2'
Wheelbase (mm):
2200+10850
Boggie center base (mm):
13050
Wheel diameter (mm):
780
Wheel tread width (mm):
Type of motor:
Motor power (kW):
Type of controller:
Type of coupling:
Compressor:
Operating current:
Max speed (km/h):
80
Door arrangement:
Number of passengers:
80 seating = 80 passengers
Out of service:
Note:
Roslagsbanan.
The history of the class (only in Swedish):
Mellanvagn till motorvagn X10p och manövervagn UBxp. UBp 801-825 fd nr 301-325, omnumrerade 1994.

Leverantör och ursprungligt vagnsnummer:

| nr | levererade | lev. nr | leverantör |
| --- | --- | --- | --- |
| 801-802 | 1990 | 301-302 | Hägglunds Traction AB |
| 803-805 | 1991 | 303-305 | ABB Railcar |
| 806-809 | 1988 | 306-309 | Hägglunds Traction AB |
| 810-823 | 1989 | 310-323 | Hägglunds Traction AB |
| 824-825 | 1990 | 324-325 | Hägglunds Traction AB |
| 826-827 | 1994 | 326-327 | ABB Railcar |
| 828-832 | 1995 | 328-332 | ABB Railcar |
Ombyggda till mellanvagnar för manöverdrift:

| nr | år |
| --- | --- |
| 806, 819, 824 | 1991 |
| 807-814, 825 | 1992 |
| 815-817, 820, 823 | 1993 |
| 818, 821-822 | 1994 |