SL A290
AB Storstockholms Lokaltrafik class A290 no 9231-9233
"Gullplutten"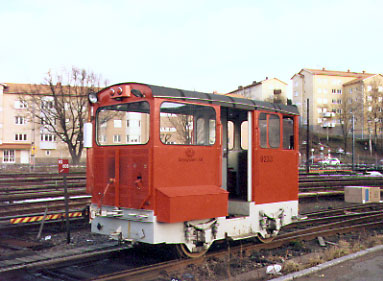 © Ingvar Andersson
data for the class A290 "Gullplutten"
Vehicle:
work vehicles
Class:
2-axled double-ended (2xZR)
Company:
AB Storstockholms Lokaltrafik (SL)
Town:
Stockholm
Line:
Tunnelbanan
Class:
A290 "Gullplutten"
Car number:
9231-9233
Built number:
3
Manufacturer:
Olsson, Råsunda 1948
Gauage (mm):
1435
Length (mm):
4320
Width (mm):
Height (mm):
Weight (kg):
9900
Axel arrangement:
Bo
Wheelbase (mm):
2000
Boggie center base (mm):
Wheel diameter (mm):
850
Wheel tread width (mm):
Type of motor:
Volvo B230F
Motor power (kW):
2x45
Type of controller:
FB 105
Type of coupling:
Compressor:
Operating current:
Max speed (km/h):
20
Door arrangement:
Number of passengers:
Out of service:
Note:
lokomotor "Gullplutten"
The history of the class (only in Swedish):
Byggd 1948 som L7 nr 1231-1233 med smeknamn "knynäven" senare smeknamn "Gullplutten"
1949 typ A285 nr 9231-9233.
1961 ombyggda tll bensinelektrisk som A290.
2010 ägs och förflyttad till Museispårvägen Malmköping.