SS A4
AB Stockholms Spårvägar class A4 no 21-47
"jitterbugg"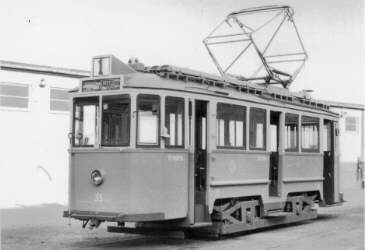 © Anders Wirén
data for the class A4 "jitterbugg"
Vehicle:
motor car
Class:
2-axled single-ended (2xER)
Company:
AB Stockholms Spårvägar (SS)
Town:
Stockholm
Class:
A4 "jitterbugg"
Car number:
21-47
Built number:
27
Manufacturer:
Råsunda, Hägglund 1943-1945
Staffing:
fast konduktör
Gauage (mm):
1435
Length (mm):
10420
Width (mm):
2230
Height (mm):
3800
Weight (kg):
15500
Axel arrangement:
Bo
Wheelbase (mm):
2500
Boggie center base (mm):
Wheel diameter (mm):
850
Wheel tread width (mm):
85
Type of motor:
ASEA LJ 32
Motor power (kW):
2x60
Type of controller:
AEG FB 105, koppling 100
Type of coupling:
albert
Compressor:
Stal PV211-E
Operating current:
600
Max speed (km/h):
40
Door arrangement:
V 1-010-2
Number of passengers:
21 seating + 46 standing = 67 passengers
Out of service:
Note:
"Jitterbugg", fd A1
The history of the class (only in Swedish):
"Jitterbugg" ombyggda från A1. Före 1926 littera A2.
Vagn 37 byggd av SS Råsunda (strömavtagare på främre delen av taket), Vagnar 21-36, 38-47 tillverkade av Hägglund/ASEA.
Vagn nr 37 fanns 1992-1999, på Djurgårdslinjen, där den oftast användes som försäljningsvagn. Från 2000 är vagn 37 trafikvagn på Museispårvägen Malmköping.
Vagnen är grönmålad, som den var efter ombyggnationen 1943.

Ursprung (omnumrerade 1922):

| | |
| --- | --- |
| A4 nr 21 | A1 nr 13 |
| A4 nr 22 | A1 nr 14 |
| A4 nr 23 | A1 nr 29 |
| A4 nr 24 | A1 nr 34 |
| A4 nr 25 | A1 nr 30 |
| A4 nr 26 | A1 nr 31 |
| A4 nr 27 | A1 nr 27 |
| A4 nr 28 | A1 nr 32 |
| A4 nr 29 | A1 nr 4 |
| A4 nr 30 | A1 nr 11 |
| A4 nr 31 | A1 nr 12 |
| A4 nr 32 | A1 nr 20 |
| A4 nr 33 | A1 nr 33 |
| A4 nr 34 | A1 nr 24 |
| A4 nr 35-47 | A1 nr 35-47 |