GS M7
Göteborgs Spårvägar class M7 no 204-209
"Långedragsvagn"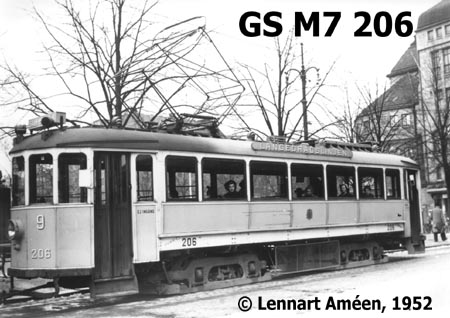 © Lennart Améen
data for the class M7 "Långedragsvagn"
Vehicle:
motor car
Class:
Company:
Göteborgs Spårvägar (GS)
Town:
Göteborg
Line:
Långedragslinjen
Class:
M7 "Långedragsvagn"
Car number:
204-209
Built number:
6
Manufacturer:
ASEA 1922-1928
Staffing:
rörlig konduktör
Gauage (mm):
1435
Length (mm):
13900
Width (mm):
2600
Height (mm):
Weight (kg):
24300
Axel arrangement:
Bo'Bo'
Wheelbase (mm):
1600
Boggie center base (mm):
5200
Wheel diameter (mm):
Wheel tread width (mm):
Type of motor:
Motor power (kW):
140
Type of controller:
Type of coupling:
Compressor:
Operating current:
Max speed (km/h):
Door arrangement:
Number of passengers:
48 seating + 38 standing = 86 passengers
Out of service:
1967
Note:
Tidigare typbeteckning MB01, M21
The history of the class (only in Swedish):
Nr 204-207 levererades från ASEA 1922.
Nr 208-209 levererades från ASEA 1928.

Boggimotorvagnar avsedda för Långedragslinjen. Jämfört med den övriga vagnparken var dehär vagnarna extremt stora och breda.

Nr 204-207 levererades med två byglar.

1949-52 ombyggda till enriktningsvagnar med fast konduktör baktill. Dörrarna på högersida togs bort.

1961 togs vagnarna ur trafik, för att åter insättas under 1963 sedan beslutet om högertrafik hade tagits. Den 2 september 1967 blev de gamla Långedragsvagnarnas sista dag i trafik.

Nr 208 bevarad som museivagn hos Ringlinien. Renoverad åren 1987-92 och återställd till 1928 års utseende.