SL A288 9236
AB Storstockholms Lokaltrafik class A288 no 9236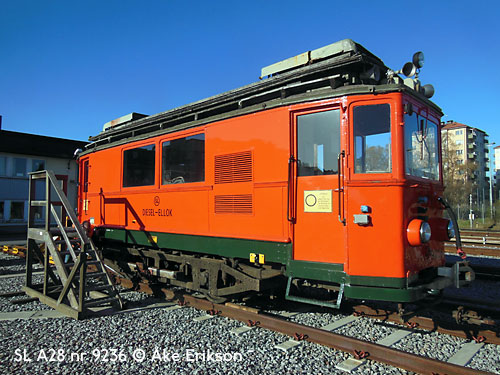 © Åke Eriksson
data for rail vehicle 9236
Vehicle:
work vehicles, dieselelektriskt arbetslok
Class:
2-axled double-ended (2xZR)
Manufacturer:
Arlöf 1907
Colour:
brandgul
Last renevation:
Operation category:
I (ready for operating use)
Preservation category:
2
Owner:
SSS
Housed:
Malmköping
Museum year:
2015


data for the class A288
Vehicle:
work vehicles
Class:
2-axled double-ended (2xZR)
Company:
AB Storstockholms Lokaltrafik (SL)
Town:
Stockholm
Line:
Tunnelbanan
Class:
A288
Car number:
9236-9237
Built number:
2
Manufacturer:
Arlöf 1907-1908
Class:
dieselelektriskt arbetslok
Gauage (mm):
1435
Length (mm):
9440
Width (mm):
2200
Height (mm):
3700
Weight (kg):
19900
Axel arrangement:
B
Wheelbase (mm):
2600
Boggie center base (mm):
Wheel diameter (mm):
870
Wheel tread width (mm):
Type of motor:
ASEA LJ 32
Motor power (kW):
2x60
Type of controller:
FB 105
Type of coupling:
albert
Compressor:
Operating current:
700
Max speed (km/h):
40
Door arrangement:
VH 1-000-1
Number of passengers:
Out of service:
2015
Note:
dieselektriskt arbetslok
The history of the rail vehicle (only in Swedish):
Fd SS A3 nr 170.
Ombyggda av SS 1925 och 1951 då de blev lok.

Ursprungligen försedd med takströmavtagare, borttagen sedan länge.

Koppel: mekaniska delen av Westinghousekoppel, allmänt kallad apskalle, samt albertkoppel

Övertogs av SSS 17 april 2015, ankom Malmköping 6 maj 2015.

Hjulen omsvarvade våren 2016 och loket ihopmonterat efter transport.

Lok 9236 hyrts sommaren 2020 av CAF/EuroMaint för att ta emot de första spårvagnarna i Lund.
The history of the class (only in Swedish):


Dieselektriskt lok för tunnelbanan, fd SS A3 169-170.
Ombyggda av SS 1925 och 1951 då de blev lok.

Dieselmotor Scania Vabis DS-11, 145 hk vid 1800 v/min. Generator LJ 46 100 kW.

Loken är utrustade för kontaktlednings-, strömskene- och dieseldrift samt automatisk fartbegränsning och "död mans grepp".

Förutom albertkoppel, även mekanisk del av Westinghouse för tunnelbana.

Ombyggda av motorvagn SS typ A3 nr 169 och 170. Vagn 9237 (169) skrotad cirka 1965.

Vagn 9236 bevarad på Museispårvägen Malmköping.


More about the class
SL A288