SS(2) A51 210
AB Stockholms Spårvägar class A51 no 210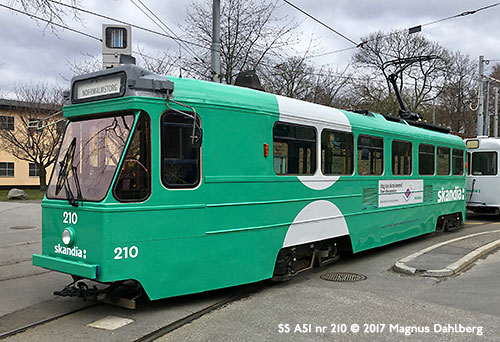 © Magnus Dahlberg
data for rail vehicle 210
Vehicle:
motor car, boggie
Class:
4-axled single-ended (4xER)
Manufacturer:
Höka, Hägglund 1953-12-03
Colour:
blå, vit
Last renevation:
You must log in to see this field.
Operation category:
You must log in to see this field.
Preservation category:
You must log in to see this field.
Owner:
SS(2)
Housed:
Djurgårdslinjen
Museum year:
2000
Status:
You must log in to see this field.
Note:
fd OS litt SM83 nr 210


data for the class SM83
Vehicle:
motor car
Class:
4-axled single-ended (4xER)
Company:
AS Oslo Sporveier (OS)
Town:
Oslo
Class:
SM83
Car number:
201-211
Built number:
11
Manufacturer:
OS, AEG, Hägglund 1985-1991
Gauage (mm):
1435
Length (mm):
14960
Width (mm):
2500
Height (mm):
Weight (kg):
16900
Axel arrangement:
Bo'Bo'
Wheelbase (mm):
1800
Boggie center base (mm):
7600
Wheel diameter (mm):
980
Wheel tread width (mm):
Type of motor:
Motor power (kW):
180
Type of controller:
Type of coupling:
albert
Compressor:
Operating current:
600 V DC
Max speed (km/h):
60
Door arrangement:
Number of passengers:
36 seating + 66 standing = 102 passengers
Out of service:
2000
Note:
Tidigare S83 med vagnsnummer 261-271. Ombyggt från äldre vagner av typen SM53.
The history of the rail vehicle (only in Swedish):
Donerad till SSSS våren 2000 av Oslo Sporveier som boggiemotorvagn OS litt SM83 nr 210, tidigare litt SM83 nr 270, litt MBO50 nr 232.
Transporterad per trailer till Alkärrshallen, Djurgården våren 2000.

Vagnen övertogs av AB Stockholms Spårvägar år 2000 då den utrangerades från AS Oslo Sporveier. Vagnen var vid övertagandet anpassad för enmansbetjäning, något som bedömdes vara praktiskt även för trafiken på Djurgårdslinjen vid vissa tillfällen. Första året gick vagnen i Oslo-blått och i det utförande som gällde i Oslo. År 2001 blev vagnen reklammålad för Gröna Lunds Tivoli och vissa detaljer modifierades för att bättre passa i Stockholm, t.ex. linjenummerskylten, destinationsskylten, strålkastaren i fronten och kopplingsanordningen för att kunna dra släpvagn av typ B31. Vintern 2002/2003 genomfördes en större ombyggnad av vagnen i och med att den försågs med konduktörsplats vid bakdörrarna och att barnvagnsplatsen i mitten flyttades till bakplattformen. Härigenom är vagnen numera jämförbar med övriga vagnar av mustangtyp som trafikerar Djurgårdslinjen såsom A25 och A31. Fortfarande kan vagnen dock köras enmansbetjänad vid behov. Vagnen är den första vagnen vid Djurgårdslinjen som körs med "joy-stick", d.v.s. tyristorreglarat steglöst pådrag och broms.

Under åren har vagnen även burit helreklam för Ica respektive McDonald's. För närvarande är den målad i dåvarande Stockholms Spårvägars klassiska färger, ljusblått och grått.
The history of the class (only in Swedish):


Vognene utrangert 1999-2000.
Vogn 201, Arbeidsvogn GS med nummer 143.
Vogn 203, Museumsvogn Sporvejshistorisk selskab, Danmark.
Vogn 207, Museumsvogn LTF, Norge.
Vogn 210, Museumsvogn, Djurgårdslinjen, Stockholm, Sverige.


More about the class
OS SM83
Tidigare utförande: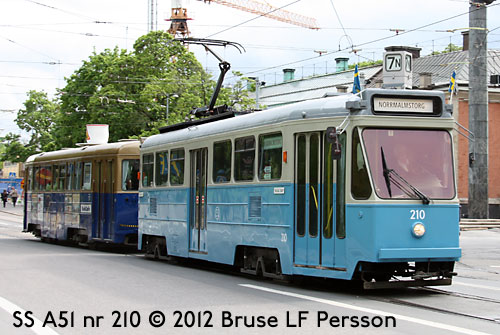 Spårvagnsblå 2010. © Bruse LF Persson.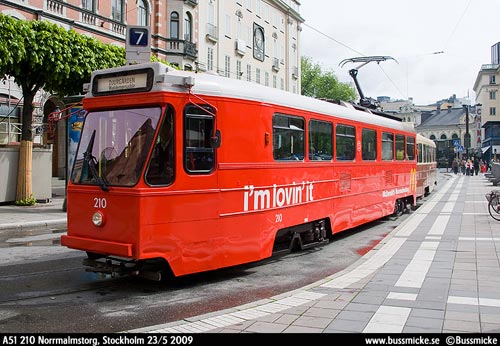 Helreklammålad 2009 för McDonalds. © Baard Belsas.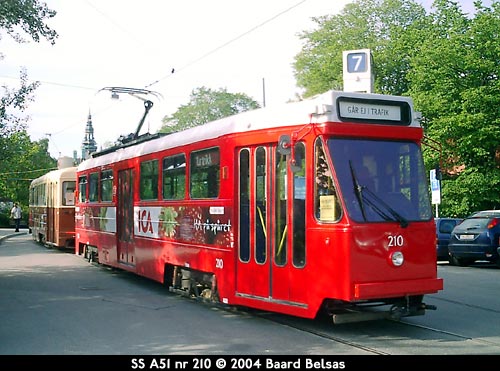 Helreklammålad 2004 för Ica. © Baard Belsas.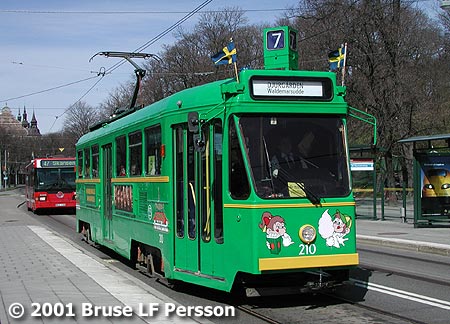 Helreklammålad 2001 för Gröna Lund. © Bruse LF Persson.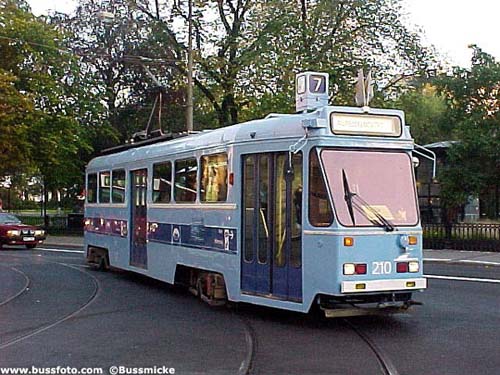 Originalutförande som OS litt SM83 nr 210 vid ankomst till Alkärrshallen 2000. © Bussmicke.