OS SM83
AS Oslo Sporveier class SM83 no 201-211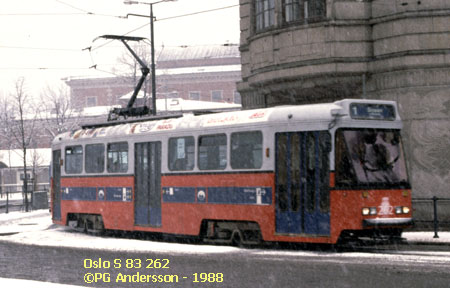 © PG Andersson
data for the class SM83
Vehicle:
motor car
Class:
4-axled single-ended (4xER)
Company:
AS Oslo Sporveier (OS)
Town:
Oslo
Class:
SM83
Car number:
201-211
Built number:
11
Manufacturer:
OS, AEG, Hägglund 1985-1991
Gauage (mm):
1435
Length (mm):
14960
Width (mm):
2500
Height (mm):
Weight (kg):
16900
Axel arrangement:
Bo'Bo'
Wheelbase (mm):
1800
Boggie center base (mm):
7600
Wheel diameter (mm):
980
Wheel tread width (mm):
Type of motor:
Motor power (kW):
180
Type of controller:
Type of coupling:
albert
Compressor:
Operating current:
600 V DC
Max speed (km/h):
60
Door arrangement:
Number of passengers:
36 seating + 66 standing = 102 passengers
Out of service:
2000
Note:
Tidigare S83 med vagnsnummer 261-271. Ombyggt från äldre vagner av typen SM53.
The history of the class (only in Swedish):
Vognene utrangert 1999-2000.
Vogn 201, Arbeidsvogn GS med nummer 143.
Vogn 203, Museumsvogn Sporvejshistorisk selskab, Danmark.
Vogn 207, Museumsvogn LTF, Norge.
Vogn 210, Museumsvogn, Djurgårdslinjen, Stockholm, Sverige.


Before this
OS SM53 "Høka"

Tram depot list

Linjekartor, historik mm