SS A27 500
AB Stockholms Spårvägar class A27 no 500
"mustang"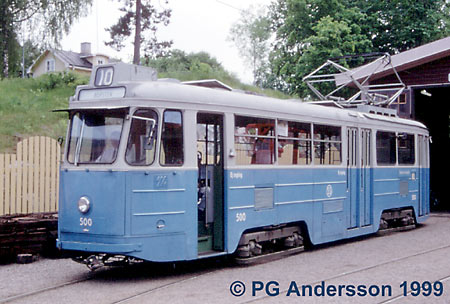 © PG Andersson
data for rail vehicle 500
Vehicle:
motor car, boggie "mustang"
Class:
4-axled single-ended (4xER)
Manufacturer:
Hägglund 1952
Colour:
blå/vit
Last renevation:
1965-05-05
Operation category:
IIB (ready for operating use after minor repairs)
Preservation category:
2
Owner:
SSS
Housed:
Malmköping
Museum year:
1967


data for the class A27 "mustang"
Vehicle:
motor car, boggie
Class:
4-axled single-ended (4xER)
Company:
AB Stockholms Spårvägar (SS)
Town:
Stockholm
Class:
A27 "mustang"
Car number:
490-500
Built number:
11
Manufacturer:
Hägglund 1951-1952
Staffing:
fast konduktör
Gauage (mm):
1435
Length (mm):
15300
Width (mm):
2340
Height (mm):
3700
Weight (kg):
16500
Axel arrangement:
Bo'Bo'
Wheelbase (mm):
1800
Boggie center base (mm):
6300
Wheel diameter (mm):
660
Wheel tread width (mm):
85
Type of motor:
Hägglund MBL 10
Motor power (kW):
4x54
Type of controller:
Hägglund CBKM-2A, kamvals
Type of coupling:
albert
Compressor:
Atlas-Copco NE3
Operating current:
Max speed (km/h):
Door arrangement:
V 1-002-3
Number of passengers:
33 seating + 70 standing = 103 passengers
Out of service:
Note:
The history of the rail vehicle (only in Swedish):
Vagnen donerad till SSS 25 juli 1967 av Högertrafikkommissionen.

Vagnen är trafikvagn i Malmköping. Den ingår i bevarandeklass 2 i Svenska Spårvägssällskapets samlingar

Denna vagn är en representant för de så berömda mustangerna som fanns i olika varianter i ett flertal städer. Stockholm hade 101 mustangmotorvagnar och vagn 500 är den sista i serien.

Stockholms mustanger bestod av tre typer A25 (400-469) levererade av GM och ASEA, A26 (470-489) levererade av Hägglund & Söner samt A27 (490-500).

Donerad till SSS 1967 07 25 av Högertrafikkommissionen som SL litt A 27 nr 500. Största tillåtna hastighet vid besiktning 1952 04 18 40 km/t.
Uppställd i Högdalen. Transporterad per järnväg till Malmköping 1967 09 16.
Fullständigt ommålad utvändigt oktober 1974, invändigt oktober 1973.
Förarhytt renoverad invändigt 1976 1977.
Besiktigad och godkänd av Vägverket 1985 07 16.
Transporterad till Alkärrshallen, Djurgården 2001-05-30.
Trafikerade Djurgårdslinjen.
Transporterad till Malmköping 2001-06-12.

available as a PDF sheet
The history of the class (only in Swedish):

"Mustang".
Bevarad vagn: nr 500 på Museispårvägen i Malmköping.


More about the class
SS A27 "mustang"