SS F3 4038
AB Stockholms Spårvägar class F3 no 4038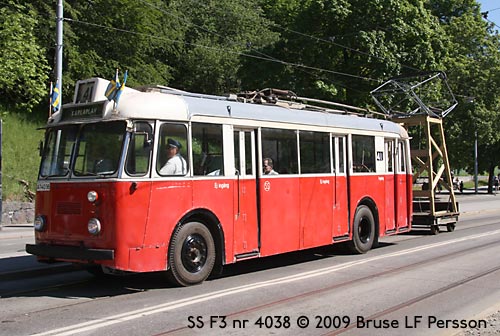 © Bruse LF Persson
data for rail vehicle 4038
Vehicle:
trolleybus
Class:
2-axled single-ended (2xER)
Manufacturer:
Scania-Vabis, Hägglund, ASEA 1949 1949
Colour:
röd, vit
Last renevation:
1964
Operation category:
I (ready for operating use)
Owner:
SSS
Housed:
Djurgårdslinjen
Museum year:


data for the class F3
Vehicle:
trolleybus
Class:
2-axled single-ended (2xER)
Company:
AB Stockholms Spårvägar (SS)
Town:
Stockholm
Class:
F3
Car number:
A1571-1574, 1577-1579, 1581-1585, 1589, 1593-1594, 1597-1599, 1601, 1605-1607, 1610-1611, 1613-1617, 1619-1620, 1622, 1627-1629, 1632, 1636, 1640, 1642, 1644, 1651-1654, 1656, 1661, 1665, 1667-1668, 1670, 1672, 1675, 1677, 1679-1680, 1682-1683, 1685, 1687, 1690, A74001-74053
Built number:
113
Manufacturer:
Scania, Hägglund, ASEA 1947-1949
Staffing:
fast konduktör
Gauage (mm):
Length (mm):
10100
Width (mm):
2420
Height (mm):
3420
Weight (kg):
8400
Axel arrangement:
1'A
Wheelbase (mm):
5500
Boggie center base (mm):
Wheel diameter (mm):
Wheel tread width (mm):
Type of motor:
ASEA LJB 26-34
Motor power (kW):
1x80
Type of controller:
ASEA CBK 40B
Type of coupling:
Compressor:
Operating current:
Max speed (km/h):
Door arrangement:
Number of passengers:
25 seating + 42 standing = 67 passengers
Out of service:
Note:
ringdimension 11x20
The history of the rail vehicle (only in Swedish):
Inköpt av SSS 1965 11 29 från AB Stockholms Spårvägar för 150 kr.
Uppställd i Högdalen, transporterad till Skokloster 1966 04 10. Uppställd på motormuseets gård.
Transporterad till Bromma Flygplats 1971 08 19.
Uppställd på Sergels Torg, Stockholm, 1972 06 01 19 i samband med FN:s miljövårdskonferens.
Transporterad till Malmköping 1972 06 19 och till Jättne 1972 09 11.
Av anskaffningsskäl har bussen tidigare benämnts SS 4016.
1986 08 11 beslöts att omnumrera bussen till sitt rätta nummer 4038.
Dispens för kilometerräknare.
Renoverad och premiärkörd på Spårvagnens dag söndagen den 31 maj 2009, med trådbussläp G221 nr 1369 med strömavtagare.
The history of the class (only in Swedish):


Vagn 1571-1690 fick nummer i den vanliga löpande registeringsnummerserien för tunga fordon i Stockholm, därav luckorna i nummerserien.
Bevarade vagnar: F3 nr A1583 på Stockholms Spårvägsmuseum och F3 nr A74036 på Museispårvägen i Malmköping.


More about the class
SS F3
Tidigare utförande:


I ordinarie trafik under 1960-talet. © Thomas Johansson.