SS(2) A25G 71
AB Stockholms Spårvägar class A25G no 71
"mustang"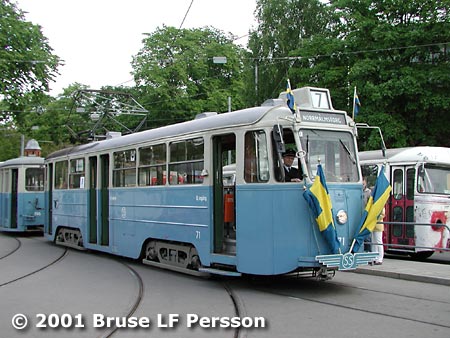 © Bruse LF Persson
data for rail vehicle 71
Vehicle:
motor car, boggie "mustang"
Class:
4-axled single-ended (4xER)
Manufacturer:
GM, ASEA 1946
Colour:
blå/vit
Last renevation:
1991-06-01
Operation category:
I (ready for operating use)
Preservation category:
3
Owner:
Malmö Tekniska Museum
Deposited with the:
SSS Stockholmavdelning
Housed:
Djurgårdslinjen
Museum year:
Note:
Märkt som SS litt A25G på Djurgårdslinjen, är en ML G nr 71


data for the class G "mustang"
Vehicle:
motor car, boggie
Class:
4-axled single-ended (4xER)
Company:
Malmö Stads Spårvägar (MSS)
Town:
Malmö
Class:
G "mustang"
Car number:
70-81
Built number:
12
Manufacturer:
GM 1946
Staffing:
fast konduktör
Gauage (mm):
1435
Length (mm):
14400
Width (mm):
2200
Height (mm):
3620
Weight (kg):
16850
Axel arrangement:
Bo'Bo'
Wheelbase (mm):
1800
Boggie center base (mm):
6300
Wheel diameter (mm):
715
Wheel tread width (mm):
90
Type of motor:
ASEA LJB 24-27
Motor power (kW):
4x48
Type of controller:
ASEA CBK 39, kamvals
Type of coupling:
albert
Compressor:
Atlas-Copco NE3
Operating current:
Max speed (km/h):
Door arrangement:
H 1-002-3
Number of passengers:
34 seating + 70 standing = 104 passengers
Out of service:
1973
Note:
The history of the rail vehicle (only in Swedish):
Deponerad hos SSS Stockholmsavdelning 1991-2016 av Malmö Tekniska museum.
Transporterad per trailer till ALFAB i Ludvika 1990.
Storrevision utförd 1991.
Transporterad per trailer till SL Hammarbyverkstad 1991 05 22 för boggiesättning och kompletterande elarbeten.
Transporterad per trailer till Alkärrshallen, Djurgården 1991 06 01.

Denna motorvagn är av samma modell som Stockholms första mustangtyp A25 och byggdes av ASEA och General Motors, som efter kriget började bygga spårvagnar eftersom efterfrågan på bilar var liten. Malmömustangerna byggdes 1946 och gick i trafik fram till 1973, då Limhamnslinjen som sista spårvägslinje i Malmö lades ner. Vagnarna sparades först för eventuellt framtida bruk, men de flesta skrotades 1977. Vagn 71 ställdes upp utanför Malmö tekniska museum. Genom en överenskommelse med museet har vagnen välvilligt ställts till Djurgårdslinjens förfogande som lån mot att den renoveras. Det arbetet har utförts hos Alfab i Ludvika vintern 1990/91. På Djurgårdslinjen har motorvagnen fått typbeteckningen A25G, och till denna tillkopplas stundtals släpvagn nr 196 som är av liknande utförande.
The history of the class (only in Swedish):


Ombyggda till högertrafik 1967.

Vagn 71 finns bevarad som M25G på Djurgårdslinjen. Vagn 72 finns bevarad i Malmköping. Vagn 74 finns bevarad i Skjoldenæsholm i Danmark.


More about the class
MSS G "mustang"