MSS EF 20
Malmö Stads Spårvägar class EF no 20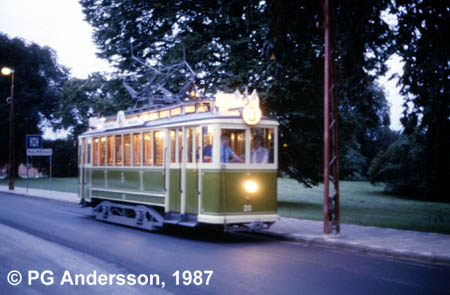 © PG Andersson
data for rail vehicle 20
Vehicle:
motor car
Class:
2-axled double-ended (2xZR)
Manufacturer:
ASEA 1907
Colour:
Last renevation:
Operation category:
I (ready for operating use)
Owner:
Malmö Tekniska Museum
Deposited with the:
SSS Malmöavdelning
Housed:
Malmö
Museum year:
1973
Status:
Note:
fd MSS litt A


data for the class EF
Vehicle:
motor car
Class:
2-axled double-ended (2xZR)
Company:
Malmö Stads Spårvägar (MSS)
Town:
Malmö
Class:
EF
Car number:
1-47
Built number:
47
Manufacturer:
ASEA, MSS 1907 (1928)
Gauage (mm):
1435
Length (mm):
11100
Width (mm):
2100
Height (mm):
3240
Weight (kg):
13000
Axel arrangement:
Bo
Wheelbase (mm):
2700
Boggie center base (mm):
Wheel diameter (mm):
810
Wheel tread width (mm):
95
Type of motor:
ASEA LJ 28
Motor power (kW):
2x37
Type of controller:
Siemens-Schuckert OF 115, kamvals
Type of coupling:
albert
Compressor:
Operating current:
Max speed (km/h):
Door arrangement:
V 1-000-2, H 2-000-1
Number of passengers:
22 seating + 36 standing = 58 passengers
Out of service:
Note:
fd A och F
The history of the rail vehicle (only in Swedish):
Korg 20 monterades 1952 med truck 15 (typ
E) och fick vagnsnummer 12, med nya typbeteckningen EF.

Renoverad 1985-87 till det utseende korgen hade 1928 och har återtagit gamla vagnsnumret, nr 20.

Spårvagnen togs ur persontrafik 1957. Byggdes därefter om till rangervagn tillsammans med vagn 13 och rangerade G (T-10) och H (T-7) släpvagnar fram till spårvägsnedläggningen 1973. Vagn 13 skänktes till Svenska Spårvägssällskapet i Malmköping och vagn 12 till Tekniska Muséet i Malmö. Före avfärden
från ML skiftades spårvagnarnas truckar, så att vagn 13 fick trucken med ursprungligt nr 15 och vagn 12 fick truck nr 3.

available as a PDF sheet
The history of the class (only in Swedish):


Vagn 12 är musealt bevarade och består av korgen från fd F-vagn 20 och trucken från fd E-vagn 15. Vagnen heter idag 20 och trafikerar Museispårvägen i Malmö dock med trucken från E-vagn nummer 3. Denna truck satt tidigare under vagn EF 13 som numera är i Malmköping men med truck nummer 15.


More about the class
MSS EF