BVG TZ69 3018
Berliner Verkehrsbetriebe Gesellschaft class TZ69 no 3018
"reko"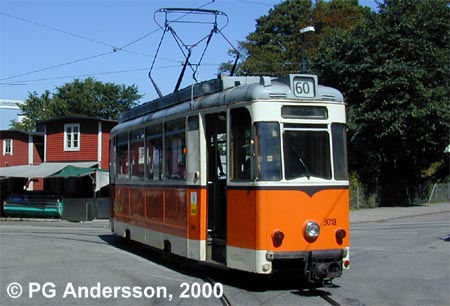 © PG Andersson
data for rail vehicle 3018
Vehicle:
motor car "reko"
Class:
2-axled double-ended (2xZR)
Manufacturer:
RawSw, LEW 1969
Colour:
Last renevation:
Operation category:
I (ready for operating use)
Owner:
MSS
Housed:
Malmö
Museum year:
1996
Status:


data for the class TZ69 "reko"
Vehicle:
motor car
Class:
2-axled double-ended (2xZR)
Company:
Berliner Verkehrsbetriebe Gesellschaft (BVG)
Town:
Berlin
Class:
TZ69 "reko"
Car number:
3001-3025
Built number:
25
Manufacturer:
RawSw, LEW 1969
Gauage (mm):
1435
Length (mm):
10700
Width (mm):
2130
Height (mm):
3400
Weight (kg):
13400
Axel arrangement:
Bo
Wheelbase (mm):
3200
Boggie center base (mm):
Wheel diameter (mm):
760
Wheel tread width (mm):
Type of motor:
Motor power (kW):
2x60
Type of controller:
Type of coupling:
Compressor:
Operating current:
Max speed (km/h):
Door arrangement:
Number of passengers:
22 seating + 52 standing = 74 passengers
Out of service:
1996
Note:
The history of the rail vehicle (only in Swedish):
Körduglig men behöver översyn. Tänkt som Partyvagn.

Byggd 1969 som typ TZ69 av Reichsbahn-ausbesserungswerk Berlin-Schöneweide och
Lokomotivbau-Elektrotechnische Werke,
Henningsdorf b. Berlin.

Vagnen levererades till BVB med nummer 5143 den 22 december 1969. 1970 omnumrererad till 223 018 ett nummer den behöll till 1993 då den blev 3018. Teknisk utrustning kom ursprungligen från Berlinvagnen 5351 levererad 1909 som boggivagn och byggd av Falkenried och AEG.

Vagnen köptes den 5 september 1996 av Mannaminne Museispårväg. Efter att ha stått uppställd i Brommahallen i Stockholm skänktes vagnen till MSS den 11 juni 1999. Vagnen transporterades från Stockholm till Malmö den 14 juni 1999.

Vid museispårvägen i Malmö ska vagnen troligen byggas om till sk "Partyvagn" för att användas vid olika former av abonnemang.

Internt har vagnen littera I och nummer 82.

available as a PDF sheet
The history of the class (only in Swedish):


1969-1970: nr 5126-5150
1970-1993: nr 223 001-223 025
1993-1996: nr 3001-3025


More about the class
BVG TZ69 "reko"