NS 101 (II)
Norrköping Spårvägar no 101 (II)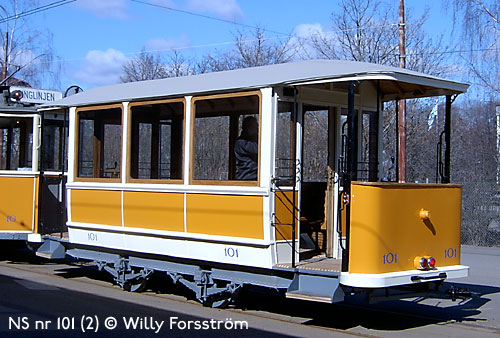 © Willy Forsström
data for rail vehicle 101 (II)
Vehicle:
trailer car
Class:
2-axled double-ended (2xZR)
Manufacturer:
SSB 1913
Colour:
grå
Last renevation:
You must log in to see this field.
Operation category:
You must log in to see this field.
Preservation category:
You must log in to see this field.
Owner:
SSS
Housed:
Norrköping
Museum year:
1964
Note:
Fd SSB litt BC3 180, SS litt B12 627


data for the class G4
Vehicle:
work car
Class:
2-axled double-ended (2xZR)
Company:
AB Stockholms Spårvägar (SS)
Town:
Stockholm
Class:
G4
Car number:
1167
Built number:
Manufacturer:
SSB 1913
Gauage (mm):
1435
Length (mm):
7750
Width (mm):
2275
Height (mm):
3500
Weight (kg):
5500
Axel arrangement:
Wheelbase (mm):
Boggie center base (mm):
Wheel diameter (mm):
Wheel tread width (mm):
85
Type of motor:
Motor power (kW):
Type of controller:
Type of coupling:
albert
Compressor:
Operating current:
Max speed (km/h):
Door arrangement:
öppna plattformar med grindar
Number of passengers:
Out of service:
Note:
montagevagn
The history of the rail vehicle (only in Swedish):
Fd SSB litt BC3 180, SS litt B12 627.

Inköpt av SSS 1964-03-31 från AB Stockholms Spårvägar för 100 kr som SS litt B231 nr 9167.
Uppställd i Högdalen. Transporterad till Malmköping per järnväg 1969-11-15.

Denna vagn tillhör Svenska Spårvägssällskapet och är en replik av vagnarna 101 till 108. Vagnen byggdes 1913 av Stockholms Södra Spårvägs AB som vagn BC3 nummer 180. Vagnen blev Stockholms Spårvägar SS B12 nummer 627 vid sammanslagningen av spårvägarna i Stockholm. Vagnen blev 1929 luftledningsvagn med nummer 1167 för att på 1950-talet få nummer 9167. Den övertogs av Svenska Spårvägssällskapet 1964 och transporterades till Malmköping 1969. Vagnen kom till Norrköping i juni 2004. Renoveringen påbörjades under 2005. Vagnens dimensioner överensstämmer med vagnarna 101 – 108 dock skiljer sig ramverket och fotstegen på plattformarna. Under renoveringen har större delen av vagnkarossens trä och plåtdetaljer bytts, nytt tak med takspant och ny takduk har lagts på och plattformarnas balkar och ändplåtar har bytts ut. Nytt golv och nya fönsterramar har tillverkats liksom en helt ny inredning. Övriga delar av vagnen har iordningställts, blästrats och målats. Nya kablar har dragits och ett 24 volts elsystem för bland annat blinkers, signaler och belysning har installerats. Vagnen är deponerad hos spårvägsmuseet i Norrköping.

Vagnens renovering var fullbordad under 2011.

More about the class
SS G4
Tidigare utförande: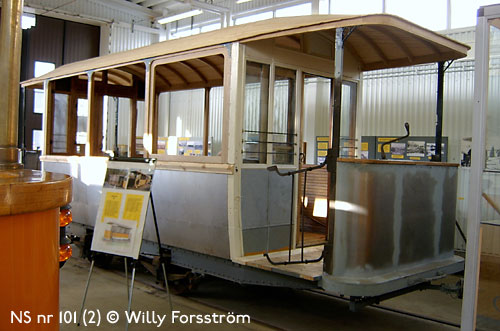 Under renovering. © Willy Forsström.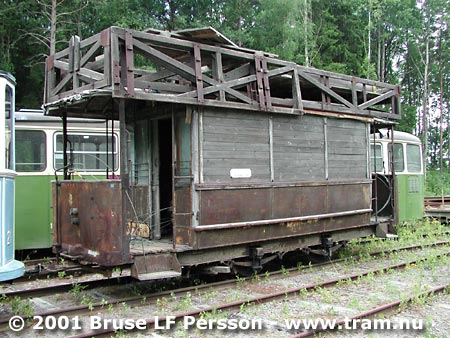 Som montagevagn SS littera G4 nr 1167. © Bruse LF Persson.