GS S26 371
Göteborgs Spårvägar class S26 no 371
"limpa"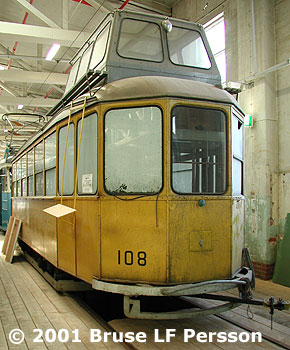 © Bruse LF Persson
data for rail vehicle 371
Vehicle:
trailer car "limpa"
Class:
2-axled single-ended (2xER)
Manufacturer:
GS 1952
Colour:
Last renevation:
Owner:
Göteborgs stad
Housed:
Ringlinien
Museum year:


data for the class S26 "limpa"
Vehicle:
trailer car
Class:
2-axled single-ended (2xER)
Company:
Göteborgs Spårvägar (GS)
Town:
Göteborg
Class:
S26 "limpa"
Car number:
311-380
Built number:
70
Manufacturer:
ASEA, GS, Hägglund 1931-1952
Staffing:
fast konduktör
Gauage (mm):
1435
Length (mm):
10730
Width (mm):
2200
Height (mm):
3200
Weight (kg):
7000
Axel arrangement:
2
Wheelbase (mm):
2600
Boggie center base (mm):
Wheel diameter (mm):
Wheel tread width (mm):
77
Type of motor:
Motor power (kW):
Type of controller:
Type of coupling:
albert
Compressor:
Atlas Diesel NE1
Operating current:
Max speed (km/h):
Door arrangement:
V 1-000-1
Number of passengers:
21 seating + 43 standing = 64 passengers
Out of service:
Note:
Tidigare typbeteckning S23R, S26, S10
The history of the rail vehicle (only in Swedish):
som arbetsvagn nr 108
The history of the class (only in Swedish):
Den kanske mest kända släpvagnstypen i Göteborg var den s k "limpan" av vilka det kom att finnas 70 st vagnar nr 311-380.

Nr 311-320 tillverkade 1931 av ASEA.
Nr 321-325 tillverkade 1933 av GS.
Nr 326-330 tillverkade 1937 av ASEA.
Nr 331-335 tillverkade 1937 av ASEA.
Nr 336-340 tillverkade 1939 av GS.
Nr 341-346 tillverkade 1939 av Hägglund & Söner.
Nr 347-370 tillverkade åren 1941-45 av GS.
Nr 371-380 tillverkade 1952 av GS.

Nr 311-325 träsoffor, resten skinnsoffor.
Nr 333 museivagn i Malmköping.
Nr 336 museivagn hos Ringlinien.
Nr 371 luftlednings inspektionsvagn, bevarad för framtida behov av Ringlinien.


More about the class
GS S26 "limpa"