GS M1 15
Göteborgs Spårvägar class M1 no 15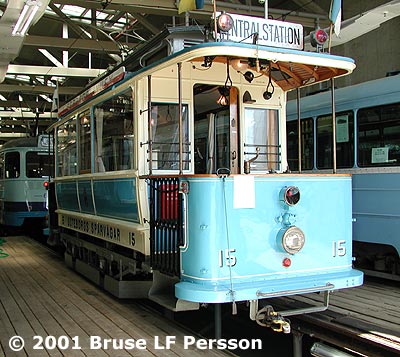 © Bruse LF Persson
data for rail vehicle 15
Vehicle:
motor car
Class:
Manufacturer:
ASEA 1902
Colour:
Last renevation:
Owner:
Göteborgs stad
Housed:
Ringlinien
Museum year:


data for the class M1
Vehicle:
motor car
Class:
Company:
Göteborgs Spårvägar (GS)
Town:
Göteborg
Class:
M1
Car number:
1-58, 104-111
Built number:
66
Manufacturer:
ASEA, GMV 1902-1903
Gauage (mm):
1435
Length (mm):
8080
Width (mm):
2000
Height (mm):
Weight (kg):
9300
Axel arrangement:
Bo
Wheelbase (mm):
1800
Boggie center base (mm):
Wheel diameter (mm):
Wheel tread width (mm):
Type of motor:
Motor power (kW):
36
Type of controller:
Type of coupling:
Compressor:
Operating current:
Max speed (km/h):
Door arrangement:
Number of passengers:
20 seating + 18 standing = 38 passengers
Out of service:
1916
Note:
The history of the class (only in Swedish):
Nr 1-46 ombyggda 1914-1916 till typ M4.
Nr 47-52 ombyggda 1916 till typ M4.
Nr 53 ombyggd 1912 till typ M4.
Nr 54-58 ombyggd 1916 till typ M4.
Nr 104-111 levererades som släpvagnar typ S 2 år 1902, ombyggdes 1906-07 till motorvagnar typ M 1. Åren 1915-16 ombyggdes dessa till typ M4.

Vagn nr 15 återställd 1929 som M 1 nr 15 med 1902 års utseende.


More about the class
GS M1