SL X60
AB Storstockholms Lokaltrafik class X60 no 6001-6071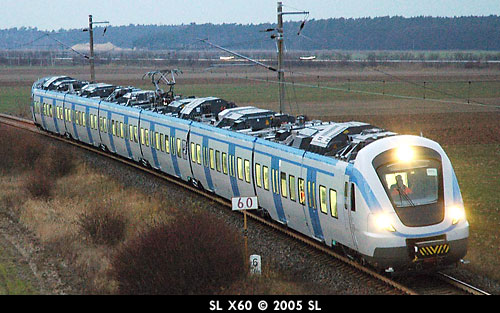 © SL
data for the class X60
Vehicle:
suburban train
Class:
Company:
AB Storstockholms Lokaltrafik (SL)
Town:
Stockholm
Line:
Pendeltåg
Class:
X60
Car number:
6001-6071
Built number:
71
Manufacturer:
Alstom 2005-2007, 2012
Staffing:
tvåmansbetjänad
Gauage (mm):
1435
Length (mm):
107000
Width (mm):
3258
Height (mm):
4280
Weight (kg):
Axel arrangement:
Bo'(Bo')(Bo')(Bo')(2')(Bo')Bo'
Wheelbase (mm):
Boggie center base (mm):
Wheel diameter (mm):
Wheel tread width (mm):
Type of motor:
Motor power (kW):
3000
Type of controller:
Type of coupling:
Compressor:
Operating current:
15 kV AC 16 2/3 Hz
Max speed (km/h):
160
Door arrangement:
Number of passengers:
374 seating + 530 standing = 904 passengers
Out of service:
Note:
består av sex vagnsdelar
The history of the class (only in Swedish):
Tågsättens delar har ett tillägg i litterat så att ändvagnarna benämns X60A1 respektive X60A2 och de fyra mellanvagnarna X60M1-X60M4.

• SL har beställt 55 vagnar med option på ytterligare 50 vagnar.
• Kostnaden för de första 55 vagnarna är knappt 4 mdr.
• Varje vagn är 107 meter lång.
• Två vagnar utgör ett fullängdståg på 214 meter.
• Full genomsikt och möjlighet att gå igenom hela vagnen.
• 92 procent av vagnen har golv i nivå med plattform.
• 374 sittplatser och 530 ståplatser/vagn.
• Informationssystem med digitala skyltar och automatiskt stationsutrop.
• Kameraövervakning i vagnarna för ökad trygghet.
• Vagnarna har flexutrymmen med plats för t ex rullstolar, barnvagnar och cyklar.
• AC/luftkonditionering i såväl passagerar- och förarutrymmen.
• Låga ljudnivåer:
– vid stillastående 62 dBa invändigt i passagerarutrymmen.
– vid 160 km/h 70 dBa invändigt i passagerarutrymmen.
• 95 procent av fordonet kan återvinnas vid framtida skrotning.