SSB A1
Stockholms Södra Spårvägsaktiebolag class A1 no 1-21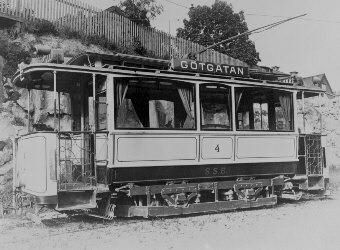 © Stockholms Spårvägsmuseum
data for the class A1
Vehicle:
motor car
Class:
Company:
Stockholms Södra Spårvägsaktiebolag (SSB)
Town:
Stockholm
Class:
A1
Car number:
1-21
Built number:
21
Manufacturer:
ASEA, UEG 1900-1904
Gauage (mm):
1435
Length (mm):
7100
Width (mm):
2180
Height (mm):
3200
Weight (kg):
10300
Axel arrangement:
Bo
Wheelbase (mm):
1750
Boggie center base (mm):
Wheel diameter (mm):
830
Wheel tread width (mm):
Type of motor:
Motor power (kW):
Type of controller:
Type of coupling:
Compressor:
Operating current:
Max speed (km/h):
Door arrangement:
Number of passengers:
18 seating + 23 standing = 41 passengers
Out of service:
Note:
senare SS A4 171-191
The history of the class (only in Swedish):
Leverantörer: nr 1-17 ASEA, UEG 1901; nr 18-21 ASEA 1904.
Levererades med öppna plattformar, men inglasades 1910-1915.
Sveriges första elektriska spårvagnar! Senare SS A4 171-191. SSB A1 nr 14 var uppställd i Elkraftsmuseet på Tekniska Museet till 2004, då den flyttades till Spårvägsmuseet. SSB A1 nr 11 finns bevarad i Malmköping som paketmotorvagn nr 1253, Sveriges idag äldsta bevarade och fungerande elektriska spårvagn.