SL A32
AB Storstockholms Lokaltrafik class A32 no 401-437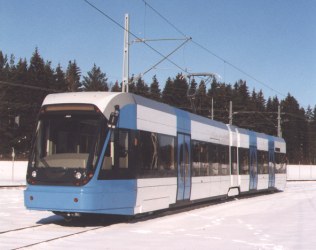 © Christer Johnsson
data for the class A32
Vehicle:
motor car
Class:
6-axled articulated double-ended partially low-floor (6xGelZR NfT)
Company:
AB Storstockholms Lokaltrafik (SL)
Town:
Stockholm
Class:
A32
Car number:
401-437
Built number:
37
Manufacturer:
Bombardier, Adtranz 1999-2009
Class:
Flexity Swift
Staffing:
rörlig konduktör
Gauage (mm):
1435
Length (mm):
29070
Width (mm):
2650
Height (mm):
3550
Weight (kg):
37500
Axel arrangement:
Bo'2'Bo'
Wheelbase (mm):
Boggie center base (mm):
1800
Wheel diameter (mm):
680
Wheel tread width (mm):
Type of motor:
Motor power (kW):
480
Type of controller:
Type of coupling:
Compressor:
Operating current:
Max speed (km/h):
80
Door arrangement:
Number of passengers:
78 seating + 133 standing = 211 passengers
Out of service:
Note:
Tvärbanan (linje 22) och Nockebybanan (linje 12).
The history of the class (only in Swedish):
Kaross: Bombardier Eurorail i Wien, boggier: BN Belgien, elektrisk utrustning samt slutmontering: Adtranz i Västerås.

12 st levererade 1999-2000. Ytterligare 10 levereras under 2001-2002. Samt ytterliga 7 vagnar år 2009.

Nr 432-437 inlöpta 2010 från RijnGouweLijn i södra Holland, levererade 2002-2003.