SS A3
AB Stockholms Spårvägar class A3 no 123-170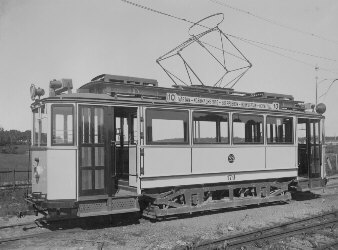 © Stockholms Spårvägsmuseum
data for the class A3
Vehicle:
motor car
Class:
2-axled double-ended (2xZR)
Company:
AB Stockholms Spårvägar (SS)
Town:
Stockholm
Class:
A3
Car number:
123-170
Built number:
47
Manufacturer:
Arlöf 1907
Staffing:
rörlig konduktör
Gauage (mm):
1435
Length (mm):
10450
Width (mm):
2300
Height (mm):
3800
Weight (kg):
14800
Axel arrangement:
Bo
Wheelbase (mm):
2600
Boggie center base (mm):
Wheel diameter (mm):
870
Wheel tread width (mm):
85
Type of motor:
ASEA LJ32
Motor power (kW):
2x60
Type of controller:
AEG FB Sp 105
Type of coupling:
albert
Compressor:
Operating current:
Max speed (km/h):
Door arrangement:
V 1-000-2, H 2-000-1
Number of passengers:
24 seating + 32 standing = 56 passengers
Out of service:
Note:
fd SNS A3
The history of the class (only in Swedish):
Före detta SNS A3 nr 123-150 och A4 nr 151-170.
Ombyggda av Råsunda 1925 respektive 1928.
Vagn 126, 128, 130 och 149 använda som enmansvagnar 1929-1938.

Denna och liknande vagntyper utgjorde länge det dominerande inslaget i Stockholms stadsbild. Vagnar av denna typ gick i reguljär trafik ända till 1964.

Bevarade vagnar: nr 143 och 170 som arbetslok 9236 på Museispårvägen i Malmköping, samt 9163 i Bromma.


Before this
SNS A3

Tram depot list

Linjekartor, historik mm