PS K90
Kungliga Poststyrelsen no K90
"skvader"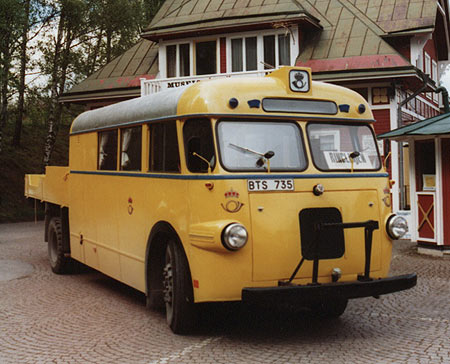 © Jan Rickman
data for road vehicle K90 "skvader"
Vehicle:
diesel bus, "skvader"
Manufacturer:
Scania-Vabis, Molinverken 1949
Staffing:
enmansbetjänad
Length (mm):
9700
Width (mm):
2260
Height (mm):
2800
Weight (kg):
6370
Wheelbase (mm):
5250
Tyre dimension:
front: 10.00 x 20, rear: 9.00 x 20
Type of motor:
Scania Vabis D606
Motor power:
99 kW
Gearbox:
Scania-Vabis G652-1
Chassis:
Scania-Vabis 2B21
Chassis number:
91180
Coach:
Registration number:
BTS 735
First reg.number:
Y 921
First reg.date:
Max speed (km/h):
Door arrangement:
V 0-101-0
Number of passengers:
seating: 13, standing: 0
Colour:
gul/blå
Last renevation:
januari 1991
Operation category:
I (ready for operating use)
Preservation category:
1
Owner:
SSS
Housed:
Mälardalen
Museum year:
1967
Note:
skvader
The history of the road vehicle:
Donerad till SSS april 1967 av Kungliga Poststyrelsen.
Transporterad per järnväg till Malmköping april 1967.
Inflyttad i lokstallet juli 1967 och i lada i Fräkentorp 1968 02 24.
Transporterad till Malmköping 1987 06 07, uppställd i Vagnorama.
Transporterad per järnväg till Postens verkstad i Lycksele 1988 06 01 för revision.
Åter till Malmköping efter revision vecka 6 1991.
Motorbyte utfört vinter 00/01.
Dispens för kilometerräknare.

1950-02-01: Registrerades in för första gången, då som en vanlig buss. Detta i Eskilstuna med registreringsnumret D206.
1950-03-07: Placerades i Norrbotten och fick registreringsnumret BD2661.
1953-04-20: Placerades i Örnsköldsvik och fick registreringsnumret Y921.
Vintern 1958/59: Byggdes om till "skvader" hos Postens verkstäder i Lycksele. Nytt inventarienumret blev K90
1959-04-24: Besiktades i det nya utförandet i Lycksele den 24 april 1959.
1959-06-24: Placerades i Norrbotten och fick registreringsnumret BD149
1959-11-20: Placerades i Åsele och fick registreringsnumret AC289.
1967-04-13: Avyttrades inför högertrafikomläggningen, avregistrerades helt och skänktes utan registreringsskyltar till Svenska Spårvägssällskapet.
1981-09-30: Ägaren Svenska Spårvägssällskapet förregistrerar bussen med registreringsnummer BTS735.
1991-05-21: Bussen körklar och kan denna dag kontrollbesiktigas. Därefter har K90 rullat i Svenska Spårvägssällskapets regi i Mälardalen