member of Swedish Tramway Society
Svenska Spårvägssällskapet operates museum tram service at four locations in Sweden. Sveriges Lokaltrafkmuseum (the Swedish Urban Transport Museum) has been in Malmköping since 1969, with preserved trams and buses from many Swedish cities. We also operate service in Norrköping, on Djurgårdslinjen in Stockholm, on the museum line in Malmö, and we cooperate with Ringlinien in Gothenburg.
With local chapters also in the west, south, and north, there\'s a place and a job for you if you want to make a contribution.
Administration
An association of our size always needs administrators, board members, and others who enjoy working with organizational issues.
Traffic operations
If you want to be active in traffic operations, you start as a conductor, showing authentically how tram service was operated in older times and guiding visitors during their tram rides. You will also receive fundamental safety training including switching cars, giving signals, coupling and uncoupling cars, etc. Later, you can train as a tram driver and operate our vintage trams yourself.
Car maintenance and renovation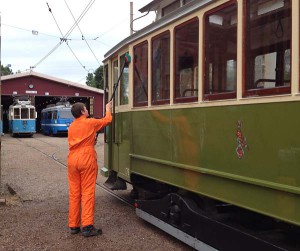 If you would prefer to work on our cars, we have knotty electrical problems to solve, mechanical functions to recreate, and carpentry and paint jobs to be done. You need not be a professional. We\'ll teach you everything you need to know!
Track work
During the spring and autumn, we work on the tracks in Malmköping, examining the track, replacing sleepers, and performing other maintenance. Sometimes we also build new tracks and overhead wire. If you like working outdoors, track work may be just the thing for you!
Get involved in Malmköping
At the Malmköping Museum Tramway, we operate tram service and gift sales from May to September. The technical activities, including tram maintenance and renovation as well as maintenance and expansion of the tracks, electrical facilities and buildings, continues year-round. Read more about becoming an active participant in Malmköping.