SNS A2 102
Stockholms Nya Spårvägsaktiebolag class A2 no 102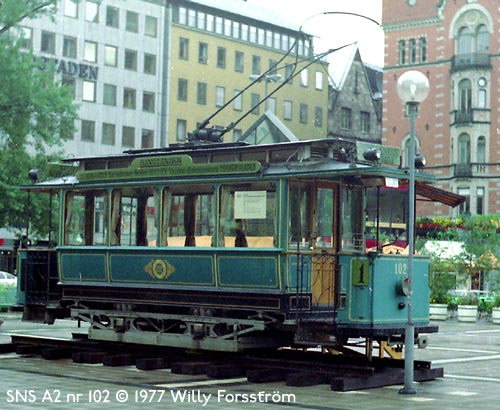 © Willy Forsström
data for rail vehicle 102
Vehicle:
motor car
Class:
Manufacturer:
ASEA 1905
Colour:
Last renevation:
Owner:
Stockholms Spårvägsmuseum
Housed:
Stockholms Spårvägsmuseum
Museum year:
1937


data for the class A2
Vehicle:
motor car
Class:
Company:
Stockholms Nya Spårvägsaktiebolag (SNS)
Town:
Stockholm
Class:
A2
Car number:
21-120
Built number:
100
Manufacturer:
ASEA 1904-1094
Gauage (mm):
1435
Length (mm):
11200
Width (mm):
2200
Height (mm):
3800
Weight (kg):
14700
Axel arrangement:
Bo
Wheelbase (mm):
2600
Boggie center base (mm):
Wheel diameter (mm):
870
Wheel tread width (mm):
Type of motor:
Motor power (kW):
60
Type of controller:
Type of coupling:
Compressor:
Operating current:
Max speed (km/h):
Door arrangement:
Number of passengers:
24 seating + 32 standing = 56 passengers
Out of service:
Note:
senare SS A1 21-120
The history of the rail vehicle (only in Swedish):
SS A1 102

Vagnen är byggd 1905 av ASEA med elektrisk utrustning från UEG, Berlin. Den är av samma typ som SNS första motorvagnstyp Al. Sedan A2 bytt typbeteckning till A1, hade SNS 120 vagnar av typ Al byggda 1903 - 1905. Vagn nr 102 var en av de trettio Al som inte blev ombyggd 1926 - 28 och som gick i trafik som A1a och A1b några år in på 1930-talet. År 1927 återställdes den till museivagn i originalutförande och målning. Den rullade senast på Stockholms gator vid samma tillfälle och på samma sätt som SSB nr 14.
The history of the class (only in Swedish):

Senare SS A1 nr 21-120.
Bevarad vagn: 102 på Stockholms Spårvägsmuseum.


More about the class
SNS A2