SS A283 9207
AB Stockholms Spårvägar class A283 no 9207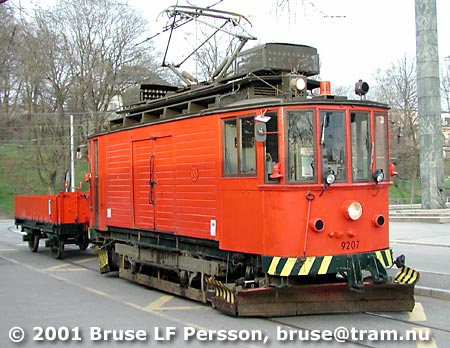 © Bruse LF Persson
data for rail vehicle 9207
Vehicle:
work car, plogmotorvagn
Class:
2-axled double-ended (2xZR)
Manufacturer:
ASEA 1907
Colour:
orange
Last renevation:
Operation category:
You must log in to see this field.
Preservation category:
You must log in to see this field.
Owner:
SS(2)
Housed:
Djurgårdslinjen
Museum year:
1994
Status:
You must log in to see this field.
Note:
fd SSB litt A2 nr 27, SS litt A5 nr 197, SS litt L3 nr 1207, SS litt A283 nr 9207, LiB nr 9207, SSLidJ nr 9207


data for the class A283
Vehicle:
work car
Class:
2-axled double-ended (2xZR)
Company:
AB Storstockholms Lokaltrafik (SL)
Town:
Stockholm
Class:
A283
Car number:
9204-9207
Built number:
4
Manufacturer:
ASEA 1904
Gauage (mm):
1435
Length (mm):
8250
Width (mm):
2150
Height (mm):
4100
Weight (kg):
18050
Axel arrangement:
Bo
Wheelbase (mm):
2000
Boggie center base (mm):
Wheel diameter (mm):
850
Wheel tread width (mm):
85
Type of motor:
ASEA LJ32
Motor power (kW):
2x60
Type of controller:
AEG FB 105
Type of coupling:
fäste för koppel
Compressor:
Operating current:
Max speed (km/h):
Door arrangement:
V 1-000-0, H 0-000-1
Number of passengers:
Out of service:
Note:
plogmotorvagn
The history of the rail vehicle (only in Swedish):
Längd över plogblad 2845 mm.

Deponerad hos SSS Stockholmsavdelning 1994 av AB Storstockholms Lokal-trafik som AB Storstockholms Lokaltrafik litt A283 nr 9207, tidigare SSLidJ nr 9207, LiB nr 9207, SS litt A283 nr 9207, SS litt A295 nr 9207, SS litt L3 nr 1207, SS litt A5 nr 197, SSB litt A2 nr 27.
Donerad till SSS 2001-12-31 av SL Infrateknik AB.
Transporterad till Alkärrshallen 1994.
Utlånad till SL Infrateknik AB för att användas på Lidingöbanan. Transporterad till vagnhallen AGA 2001-01-08-09.

Lok nummer 9207 levererades 1907 som "vanlig" spårvagn av ASEA till Stockholms Södra Spårvägsaktiebolag (SSB), där den fick typbeteckningen A2 och nummer 27. När SSB övertogs av Stockholms Spårvägar (SS) 1918, fick den typbeteckningen A5 och nummer 197. På SS verkstäder i Råsunda, byggdes den 1923 om till snölok med borstar och plogblad och fick då nummer 1207 och typbeteckningen L3. Loket målades i grå färg.

År 1948 togs beslut att hela vagnparken skulle omlittereras, vilket började ske på hösten 1948. 1207/197 fick nummer 9207 och typbeteckningen A283, men byggdes 1956 om igen. Med stor sannolikhet målades loket om till orange i samband med denna ombyggnad. Plattformarna byggdes då in helt och den fick en kompressor från en F4-trådbuss för manövrering av plogar och plogvingar. Snöloket tjänstgjorde på innerstadsnätet och var stationerat i Söderhallen till 1967. Därefter fick den tjänstgöra på Norra Lidingöbanan fram till dess nedläggning 1971 och sedan på Södra Lidingöbanan. Där kom den allmänt att kallas för Gunghästen, på grund av sitt korta axelavstånd och därmed sin gungande gång. Den 21 september 1994 överfördes 9207 till Djurgårdslinjen där den erhöll en välbehövlig upprustning för att kunna tjänstgöra som både sop- och ploglok.

Har varit hos Lameco i Hällnäs, Västerbotten, sommaren 2010 för en kvalificerad ombyggnad för att även kunna tjänstgöra även på Spårväg City till Sergels torg (plog och borstar i båda ändar). Återleverans skedde den 28 januari 2011.
The history of the class (only in Swedish):


Vagn 9205 stationerad i Brommahallen som ploglok på Nockebybanan och Tvärbanan. Vagn 9205 fd SSB nr 19.

Vagn 9207 stationerad i Alkärrshallen. Vagn 9207 fd SSB A2 27 och SS A5 197.


More about the class
SL A283