OS SM53 249
AS Oslo Sporveier class SM53 no 249
"Høka"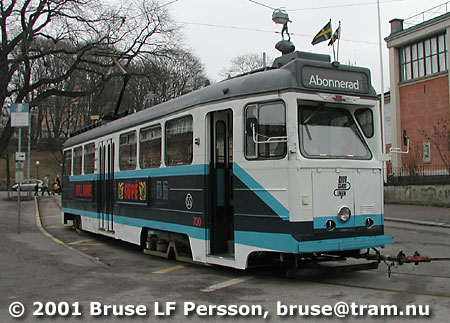 © Bruse LF Persson
data for rail vehicle 249
Vehicle:
motor car, boggie Høka "Høka"
Class:
4-axled single-ended (4xER)
Manufacturer:
Höka, Hägglund 1958
Colour:
mörkblå/vit/ljusblå/orange
Last renevation:
Preservation category:
3
Owner:
LTF
Housed:
Holtet
Museum year:
1992
Status:
donated 2012
Note:
fd OS "Höka" litt MBO56 (SM53) nr 249, användes som Partyvagn - fd SS A3 nr 700


data for the class SM53 "Høka"
Vehicle:
motor car, boggie
Class:
4-axled single-ended (4xER)
Company:
AS Oslo Sporveier (OS)
Town:
Oslo
Class:
SM53 "Høka"
Car number:
204-253
Built number:
49
Manufacturer:
Høka, Hägglund 1952-1958
Staffing:
fast konduktör
Gauage (mm):
1435
Length (mm):
14700
Width (mm):
2500
Height (mm):
3110
Weight (kg):
16900
Axel arrangement:
Wheelbase (mm):
1800
Boggie center base (mm):
7600
Wheel diameter (mm):
680
Wheel tread width (mm):
110
Type of motor:
Hägglund MBL10
Motor power (kW):
4x45,6
Type of controller:
Hägglund & Söner CBKM-4A, kamvals
Type of coupling:
albert
Compressor:
Atlas-Copco NE3
Operating current:
600 V DC
Max speed (km/h):
Door arrangement:
H 1-0-20-1
Number of passengers:
36 seating + 100 standing = 136 passengers
Out of service:
1992-1997
Note:
MBO50, MBO55, MBO56
The history of the rail vehicle (only in Swedish):
Denna vagn byggdes för Oslo Sporveier 1956 av Hägglunds med kaross från norska Høka. I Oslo fick den typbeteckningen MBO56 med numret 249 och gick i daglig trafik fram till 1991. Svenska Spårvägssällskapet fick 1992 köpa vagnen för en norsk krona och började bygga om vagnen till en restaurang- och cafévagn.

Vagnen med typbeteckningen A33, tar 36 sittande vid bord som alla har fönsterplats och är utmärkt att hyra till diverse abonnemang. Vagnens färger i mörkblått, ljusblått och orange är hämtad från de A28-vagnar som på 1950-talet rullade på sightseeinglinjen 700 i Stockholm, därav vagnsnumret.

Inköpt av SSS Stockholmsavdelning 1992-12-01 från Oslo Sporveier för 1 Norsk kr som OS litt MBO 56 nr 249.
Transporterad per trailer till Alkärrshallen, Djurgården 1992-01-26.
Utvändig lackering utförd av SL:s Hammarbyverkstad september oktober 1992.
Inredning ombyggd till restaurang-/cafévagn oktober november 1992.
Invigd som restaurang-/cafévagn 1992-12-01.
Transporterad per trailer till Göteborg 1997 för hjulsvarvning.
Åter till Alkärrshallen, Djurgården.
Kabelbyte utfört januari- maj 1999.
Avställd 2009 inför ombyggnaden av bana och vagnhall för Spårväg City. Förvarad externt.
Avförd ur SS vagnpark och överlåten till Oslo (LTF och Ruter) sommaren 2012.
Transporterad till Oslo på trailer i september 2012.

Återfick sitt ursprungliga nummer 249 och typbeteckning SM53 under 2013.
The history of the class (only in Swedish):


MBO50 nr 204-233 levererade 1952-1953.
MBO55 nr 234-245 levererade 1957.
MBO56 nr 246-253 levererade 1958.

MBO50 levererades med 41 sittplatser, ändrat till 36 i 1959.


More about the class
OS SM53 "Høka"
Tidigare utförande: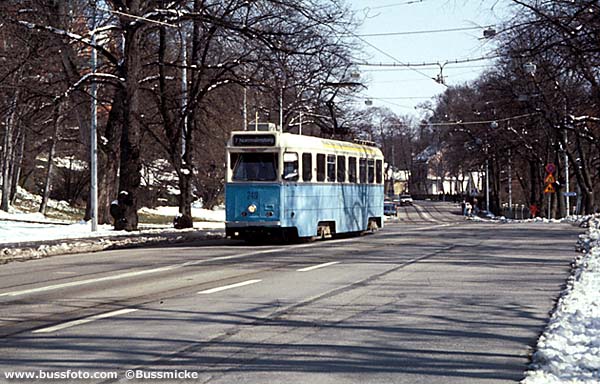 Originalutförande som OS litt MBO56 nr 249. © Bussmicke.