MSS T-6 176
Malmö Stads Spårvägar class T-6 no 176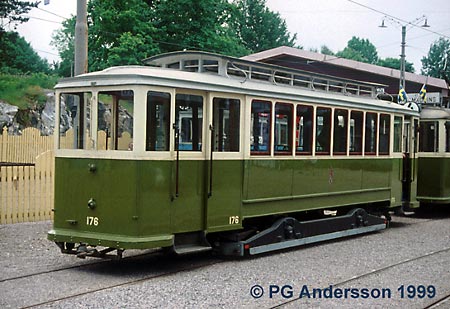 © PG Andersson
data for rail vehicle 176
Vehicle:
trailer car
Class:
2-axled double-ended (2xZR)
Manufacturer:
ASEA 1907
Colour:
grön/créme
Last renevation:
1976-06-01
Operation category:
II (ready for operating use, but in need of minor repairs)
Preservation category:
2
Owner:
SSS
Housed:
Malmköping
Museum year:
1964
Status:
Note:
Korg fd litt A nr 19, truck tillverkad 1953


data for the class T-6
Vehicle:
trailer car
Class:
2-axled double-ended (2xZR)
Company:
Malmö Stads Spårvägar (MSS)
Town:
Malmö
Class:
T-6
Car number:
170-179
Built number:
10
Manufacturer:
MSS 1952-1954
Staffing:
rörlig konduktör
Gauage (mm):
1435
Length (mm):
11190
Width (mm):
2100
Height (mm):
3250
Weight (kg):
8040
Axel arrangement:
2
Wheelbase (mm):
2800
Boggie center base (mm):
Wheel diameter (mm):
715
Wheel tread width (mm):
87
Type of motor:
Motor power (kW):
Type of controller:
Type of coupling:
albert
Compressor:
Operating current:
Max speed (km/h):
Door arrangement:
VH 1-000-1
Number of passengers:
22 seating + 40 standing = 62 passengers
Out of service:
Note:
fd D och E
The history of the rail vehicle (only in Swedish):
Vagnen levererades av ASEA 1906 som motorvagn litt A nr 8. År 1925 förlängdes plattformarna och ny truck monterades. Vagnen fick då litt E och nytt nummer 19. År 1953 byggdes vagnen om till släpvagn och fick ny helsvetsad truck.

Vagntypen användes som släpvagn till de moderna mustangerna, vilket gav en egendomlig anakronistisk prägel åt spårvagnståget.

Donerad till SSS 1964-08-05 av Malmö Stads Spårvägar.
Transporterad per järnväg till Stockholm och per lastbil till Skokloster februari 1965. Uppställd på gården utanför motormuseet tillsammans med MSS 34.
Transporterad till Malmköping 1968-11-15--16.
Korgrevision utförd 1972--1976.
Besiktigad och godkänd av Vägverket 1979-07-13.
Inlyft i Vagnorama 1984-06-16, efter spåranslutning hösten 1987 ej längre stationär i Vagnorama.
Transporterad per trailer till SL:s Hammarbyverkstad 1992-04-27.
Begränsad korgrevision utförd maj juni 92, omfattande bl.a ommålning av det gröna samt ombyggnad av signalsystem och 700 voltsmatning.
Transporterad per trailer till Alkärrshallen, Djurgården 1992-06-04.
Trafikerade Djurgårdslinjen under tiden 1992-06-07 -- 1992-07-01.
Transporterad per trailer till Malmköping 1992-07-02

available as a PDF sheet

More about the class
MSS T-6