HRO 11
Helsingin Raitiotie- ja Omnibus Osakeyhtiö no 11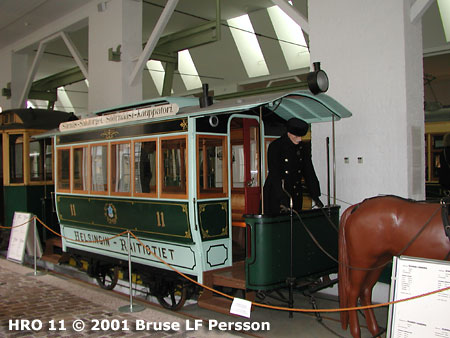 © Bruse LF Persson
data for rail vehicle 11
Vehicle:
horse tram
Class:
Manufacturer:
Scandia 1890-1891
Colour:
Last renevation:
Rebuilt:
Owner:
Helsingfors stadsmuseum
Housed:
Helsingfors Spårvägsmuseum
Museum year:
Deposited with the:


data for the class (hsv)
Vehicle:
horse tram
Class:
Company:
Helsingin Raitiotie- ja Omnibus Osakeyhtiö (HRO)
Town:
Helsingfors
Class:
(hsv)
Car number:
1-15
Built number:
15
Manufacturer:
Scandia 1890-1891
Gauage (mm):
1000
Length (mm):
Width (mm):
Height (mm):
Weight (kg):
Axel arrangement:
Wheelbase (mm):
Boggie center base (mm):
Wheel diameter (mm):
Wheel tread width (mm):
Type of motor:
Motor power (kW):
Type of controller:
Type of coupling:
Compressor:
Operating current:
Max speed (km/h):
Door arrangement:
Number of passengers:
Out of service:
Note:
The history of the class (only in Swedish):
Fem av vagnarna ombyggdes till släpvagnar år 1901. Dessa slopades åren 1908-1919. Av dessa är HSO 11 bevarad som museivagn. Två vagnar gick senare i trafik på hästspårvägen på Drumsö. Fyra vagnar såldes till järnvägen (aldrig öppnad till offentlig trafik) mellan Kausala och Leininselkä, spårvidd 750 mm. Där användes vagnarna i ånglokdragna persontåg. Av dessa vagnar är en bevarad vid Jockis museijärnväg i Minkiö.


More about the class
HRO (hsv)