SRJ X7p 54
Stockholm-Roslagens Järnvägar class X7p no 54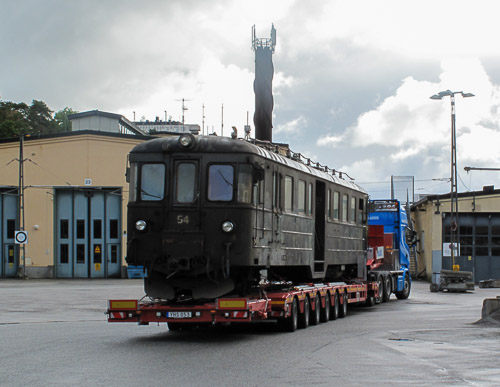 © Lennart Hjelm
data for rail vehicle 54
Vehicle:
suburban motor car
Class:
Manufacturer:
ASEA 1949
Colour:
Last renevation:
Rebuilt:
Owner:
Stockholms Spårvägsmuseum
Housed:
Stockholms Spårvägsmuseum
Museum year:
Deposited with the:


data for the class X7p
Vehicle:
suburban motor car
Class:
Company:
AB Storstockholms Lokaltrafik (SL)
Town:
Stockholm
Line:
Roslagsbanan
Class:
X7p
Car number:
46-56
Built number:
11
Manufacturer:
ASEA 1946-1949
Gauage (mm):
891
Length (mm):
19050
Width (mm):
Height (mm):
Weight (kg):
33400
Axel arrangement:
Bo'Bo'
Wheelbase (mm):
2400
Boggie center base (mm):
14050
Wheel diameter (mm):
880
Wheel tread width (mm):
Type of motor:
Motor power (kW):
480
Type of controller:
Type of coupling:
Compressor:
Operating current:
1500 V DC
Max speed (km/h):
75
Door arrangement:
Number of passengers:
52 seating = 52 passengers
Out of service:
Note:
Roslagsbanan.
The history of the class (only in Swedish):


Fd SRJ motorvagn nr 130-140, fd SJ Xoa7p 2130-2140. Vagn 45-53 levererade 1946, vagn 54-56 levererade 1949. Vagn 47, 49, 50, 53-56 ombyggda 1984-1986 för manövervagnsdrift. Bevarad vagn: vagn nr 54 på Stockholms Spårvägsmuseum.

Vagn 56 ändrad till arbetsvagn med samma nummer men nu skrotad.


More about the class
SL X7p