HRRJ 2
Helsingborg-Råå-Ramlösa Järnväg no 2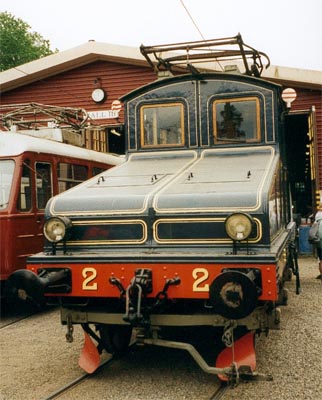 © PG Andersson
data for rail vehicle 2
Vehicle:
engine, enhytts boggie
Class:
4-axled double-ended (4xZR)
Manufacturer:
ASEA 1907
Colour:
mörkblå
Last renevation:
1976-03-12
Operation category:
I (ready for operating use)
Preservation category:
2
Owner:
SSS
Housed:
Malmköping
Museum year:
1967


data for the class (lok)
Vehicle:
engine, boggie
Class:
4-axled double-ended (4xZR)
Company:
Helsingborg-Råå-Ramlösa Järnväg (HRRJ)
Town:
Helsingborg
Line:
Decauvillen
Class:
(lok)
Car number:
1-2
Built number:
2
Manufacturer:
ASEA 1907
Gauage (mm):
1435
Length (mm):
10030
Width (mm):
2330
Height (mm):
4300
Weight (kg):
18600
Axel arrangement:
Bo
Wheelbase (mm):
1600+4120
Boggie center base (mm):
Wheel diameter (mm):
1000
Wheel tread width (mm):
130
Type of motor:
ASEA U3
Motor power (kW):
2x40,5
Type of controller:
ASEA K.M.16 E.N.62
Type of coupling:
skruvkoppel
Compressor:
Operating current:
Max speed (km/h):
30
Door arrangement:
VH 0-010-0
Number of passengers:
Out of service:
Note:
The history of the rail vehicle (only in Swedish):
Donerat till SSS 1967-09-09 av Helsingborgs Stads Spårvägar som HSS litt L nr 2.
Transporterat per järnväg, lokkorg separat från boggier till Malmköping 1967-10-21.
Insamling för målning av loket startad 1970.
ASEA skänkte 9000: för målning februari 1975. Ommålat maj 1975 -- mars 1976.
Boggierevision december 1985 december 1986.
Största tillåtna hastighet med hänsyn till drivanordningen vid besiktning 1952-01-09 30 km/t
The history of the class (only in Swedish):
Lok 1 skrotad 9 september 1967. Lok 2 är bevarat i Malmköping.


More about the class
HRRJ (lok)