GS M22 211
Göteborgs Spårvägar class M22 no 211
"mustang"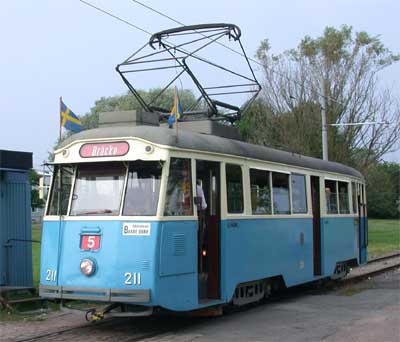 © PG Andersson
data for rail vehicle 211
Vehicle:
motor car "mustang"
Class:
4-axled single-ended (4xER)
Manufacturer:
ASEA 1943
Colour:
Last renevation:
Owner:
Göteborgs stad
Housed:
Ringlinien
Museum year:


data for the class M22 "mustang"
Vehicle:
motor car, boggie
Class:
4-axled single-ended (4xER)
Company:
Göteborgs Spårvägar (GS)
Town:
Göteborg
Class:
M22 "mustang"
Car number:
211-225
Built number:
15
Manufacturer:
ASEA 1943-1944
Staffing:
fast konduktör
Gauage (mm):
1435
Length (mm):
13370
Width (mm):
2500
Height (mm):
3700
Weight (kg):
17000
Axel arrangement:
Bo'Bo'
Wheelbase (mm):
1800
Boggie center base (mm):
5900
Wheel diameter (mm):
Wheel tread width (mm):
77
Type of motor:
ASEA LJB 24
Motor power (kW):
160
Type of controller:
ASEA CBK 27, kamvals
Type of coupling:
albert
Compressor:
Atlas-Copco NE3
Operating current:
Max speed (km/h):
Door arrangement:
V 1-010-2
Number of passengers:
30 seating + 75 standing = 105 passengers
Out of service:
1967
Note:
Tidigare typbeteckning MB03
The history of the class (only in Swedish):


GS första mustanger, totalt blev det 15 st motorvagnar av typ M 22.

Vagnarna levererades ursprungligen med dörr framtill och dörrar baktill, under 1951-52 ombyggdes de hos Eksjöverken så att vagnarna erhöll mittendörr och blev mer liknade typ M 23.

De togs ur trafik den 2 september 1967.

Nr 211 museivagn hos Ringlinien.
Nr 224 museivagn i Malmköping.
Nr 225 blev verkvagn på Angeredsbanan, skrotad 1986.


More about the class
GS M22 "mustang"