GSS (mv)
Gävle Stads Spårvägar class (mv) no 22-24
"mustang"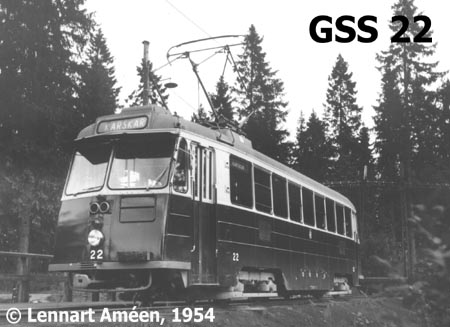 © Lennart Améen
data for the class (mv) "mustang"
Vehicle:
motor car
Class:
4-axled double-ended (4xZR)
Company:
Gävle Stads Spårvägar (GSS)
Town:
Gävle
Class:
(mv) "mustang"
Car number:
22-24
Built number:
3
Manufacturer:
Hägglund 1953
Gauage (mm):
1435
Length (mm):
14300
Width (mm):
2500
Height (mm):
3128
Weight (kg):
16500
Axel arrangement:
Bo'Bo'
Wheelbase (mm):
1800
Boggie center base (mm):
6400
Wheel diameter (mm):
Wheel tread width (mm):
Type of motor:
Motor power (kW):
Type of controller:
Type of coupling:
Compressor:
Operating current:
Max speed (km/h):
Door arrangement:
Number of passengers:
36 seating + 65 standing = 101 passengers
Out of service:
1956
Note:
såldes till Göteborgs Spårvägar 1956
The history of the class (only in Swedish):
De tre Gälvevagnarna byggdes efter ankomsten till Göteborg om till enriktningsvagnar med pedalkontroller(!) för multipeltest(kallades då M24) inför M25 inköpet. Men efter ett år återmonterades rattkontrollern och vagnarna blev åter M23:or.

| GSS nr | senare | senare | senare Ringlinien |
| --- | --- | --- | --- |
| GSS 22 | GS M24 61 | GS MB04/M23 61 | i trafik som GS M23 63 |
| GSS 23 | GS M24 62 | GS MB04/M23 62 | blev arbetsvagn GS 136, skall återställas till GSS nr 23 |
| GSS 24 | GS M24 63 | GS MB04/M23 63 | avställd i väntan på revision |