ST 12T
Skånetrafiken class 12T no 6994
"Trollino"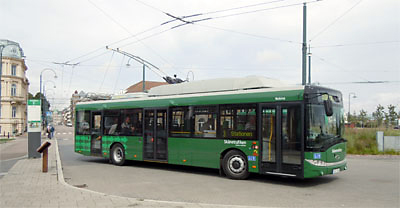 © PG Andersson
data for the class 12T "Trollino"
Vehicle:
trolleybus
Class:
2-axled single-ended (2xER)
Company:
Skånetrafiken (ST)
Town:
Landskrona
Class:
12T "Trollino"
Car number:
6994
Built number:
1
Manufacturer:
Solaris, Skoda 2013
Gauage (mm):
Length (mm):
13640
Width (mm):
2550
Height (mm):
3490
Weight (kg):
Axel arrangement:
Wheelbase (mm):
5900
Boggie center base (mm):
Wheel diameter (mm):
Wheel tread width (mm):
Type of motor:
Motor power (kW):
160
Type of controller:
Type of coupling:
Compressor:
Operating current:
750 V DC
Max speed (km/h):
50
Door arrangement:
Number of passengers:
27 seating + 28 standing = 55 passengers
Out of service:
Note:
Elvis
The history of the class (only in Swedish):
Bussarna ägs av Skånetrafiken.

Batteri: Nickel-Titan 54 kWh, 450 V. Räckvidd batteri ca 20 km i trafik. Snabbladdning udner tråd. Ingår i EU-projektet SLIDEIN.
Döps på 10-årsdagen den 27/9-2013.

| Namn | Nummer Orusttrafiken | Nummer Arriva / Swebus / Nobina | Leveransår | Reg.-nr. | Inventarienummer | Chassinummer |
| --- | --- | --- | --- | --- | --- | --- |
| Ella | 7231 | 6991 | 2003 | TXT 772 | 1069 | SU92411663BPN-1069 |
| Elvira | 7232 | 6992 | 2003 | TXT 754 | 1067 | SU92411663BPN-1067 |
| Ellen | 7233 | 6993 | 2003 | TXT 763 | 1068 | SU92411663BPN-1068 |
| Else-Len | - | 6990 | 2010 | CLP 254 | - | SUU241160AB008655 |
| Elvis | - | 6994 | 2013 | UCC 089 | - | - |