HKL GT8
Helsingin Kaupupungin Liikennelaitos class GT8 no 150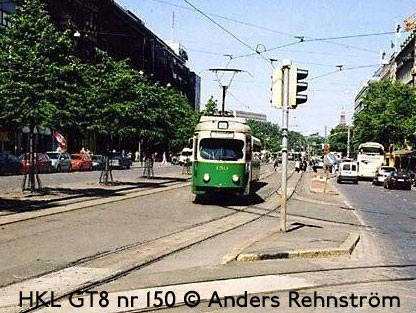 © Anders G Rehnström
data for the class GT8
Vehicle:
motor car
Class:
8-axled articulated single-ended (8xGelER)
Company:
Helsingin Kaupupungin Liikennelaitos (HKL)
Town:
Helsingfors
Class:
GT8
Car number:
150
Built number:
1
Manufacturer:
Düwag, BBC 1967
Staffing:
enmansbetjänad
Gauage (mm):
1435
Length (mm):
25665
Width (mm):
2200
Height (mm):
Weight (kg):
25000
Axel arrangement:
Bo'2'2'Bo'
Wheelbase (mm):
1800
Boggie center base (mm):
6000 + 6570 + 6000
Wheel diameter (mm):
Wheel tread width (mm):
Type of motor:
Motor power (kW):
2x120
Type of controller:
Type of coupling:
Compressor:
Operating current:
600 V DC
Max speed (km/h):
Door arrangement:
Number of passengers:
64 seating + 140 standing = 204 passengers
Out of service:
Note:
The history of the class (only in Swedish):
Provvagn, köptes till Helsingfors år 2004 från Verkehrsbetriebe Ludwigshafen am Rhein (VBL). Med vagnen testas möjligheten att bygga om NrII-vagnarna med låggolvsmellandel, på samma sätt som M21/M31 i Göteborg. Vagnen används enbart på linjerna 1 och 1A. När vagnen avgår från linjetrafik, kan den bevaras i Helsingfors som abonnemangsvagn. Före detta VBL 150. Ombyggd från GT6 år 1970.

Används av Oy Stadin Ratikat Ab för abonnemang.