SL X10p
AB Storstockholms Lokaltrafik class X10p no 201-235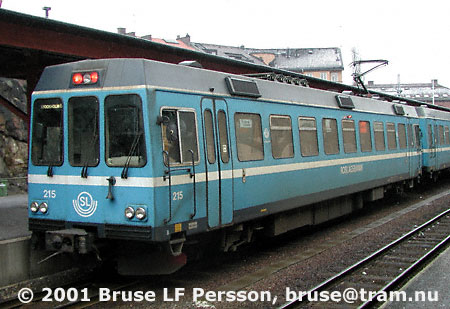 © Bruse LF Persson
data for the class X10p
Vehicle:
suburban motor car
Class:
4-axled double-ended (4xZR)
Company:
AB Storstockholms Lokaltrafik (SL)
Town:
Stockholm
Line:
Roslagsbanan
Class:
X10p
Car number:
201-235
Built number:
35
Manufacturer:
AEG, ABB Railcar 1990-1995
Gauage (mm):
891
Length (mm):
19900
Width (mm):
2600
Height (mm):
3550
Weight (kg):
27700
Axel arrangement:
Bo'Bo'
Wheelbase (mm):
2200+10850
Boggie center base (mm):
13050
Wheel diameter (mm):
780
Wheel tread width (mm):
Type of motor:
AEG BAZi 5126/6
Motor power (kW):
4x100
Type of controller:
Type of coupling:
Compressor:
Operating current:
1500 V DC
Max speed (km/h):
80
Door arrangement:
Number of passengers:
72 seating = 72 passengers
Out of service:
Note:
Roslagsbanan.
The history of the class (only in Swedish):
Motorvagn till manövervagn UBxp och mellanvagn UBp. X10p nr 214-215 har 68 sittplatser.

Leverantörer:

| nr | leverantör | vikt |
| --- | --- | --- |
| 840-854 | Atlas | 4,1 ton |
| 855-866 | Vabis | 3,2 ton |
| 867-876 | Carlsson & Söner | 4,2 ton |