SS B12 (II)
AB Stockholms Spårvägar class B12 (II) no 559-618
"två-rum-och-kök"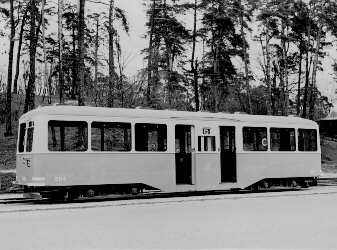 © Stockholms Spårvägsmuseum
data for the class B12 (II) "två-rum-och-kök"
Vehicle:
trailer car
Class:
Company:
AB Stockholms Spårvägar (SS)
Town:
Stockholm
Class:
B12 (II) "två-rum-och-kök"
Car number:
559-618
Built number:
60
Manufacturer:
ASJ, Hägglund 1944
Gauage (mm):
1435
Length (mm):
13150
Width (mm):
2330
Height (mm):
3040
Weight (kg):
10800
Axel arrangement:
2'2'
Wheelbase (mm):
1500+5600
Boggie center base (mm):
7100
Wheel diameter (mm):
600
Wheel tread width (mm):
Type of motor:
Motor power (kW):
Type of controller:
Type of coupling:
Compressor:
Operating current:
Max speed (km/h):
Door arrangement:
Number of passengers:
42 seating + 38 standing = 80 passengers
Out of service:
Note:
fd B23
The history of the class (only in Swedish):
"Två-rum-och-kök", före 1949 B23.
För vagnar 619-628 se B12(II) Hägglunds.
Leverantörer: nr 559-574 ASEA, nr 575-586 ASJ, nr 587-598 Sv. Maskinverken, nr 599-608 ASJ, nr 609-618 Kalmar.
Vagnar nr 559-596, 598-602, 604-606, 608-612, 614, 616-618 (55 st) byggdes om 1955 till B29 för att passa till A29.