SS C7
AB Stockholms Spårvägar class C7 no 877-911
"sommarvagn"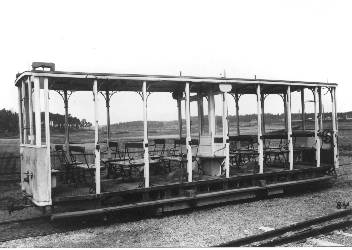 © Stockholms Spårvägsmuseum
data for the class C7 "sommarvagn"
Vehicle:
trailer car
Class:
2-axled double-ended (2xZR)
Company:
AB Stockholms Spårvägar (SS)
Town:
Stockholm
Class:
C7 "sommarvagn"
Car number:
877-911
Built number:
35
Manufacturer:
Arlöf 1908-1909
Staffing:
rörlig konduktör
Gauage (mm):
1435
Length (mm):
7990
Width (mm):
2200
Height (mm):
2950
Weight (kg):
4000
Axel arrangement:
2
Wheelbase (mm):
1980
Boggie center base (mm):
Wheel diameter (mm):
830
Wheel tread width (mm):
78
Type of motor:
Motor power (kW):
Type of controller:
Type of coupling:
albert
Compressor:
Operating current:
Max speed (km/h):
Door arrangement:
Number of passengers:
30 seating + 16 standing = 46 passengers
Out of service:
Note:
öppen släpvagn, "sommarvagn"
The history of the class (only in Swedish):
Tidigare SNS C5 nr 371-405.
Ombyggda 1919 med mittgång. 1926 med plattformar för stående.
Före 1919: 45 sittplatser. 1919-1926: 35 sittande. Efter 1926: 30 sittande.
Före 1926: inga ståplatser. Efter 1926: 16 ståplatser.
Omnumrerades 1929 till nr 1877-1911.
År 1939-1940 provisoriskt inbyggda, se C7 (II).
Bevarad vagn: nr 892 som SNS C5 nr 386 på Stockholms Spårvägsmuseum.


Before this
SNS C5

Later
SS C7 (II) "masonitvagn"

Tram depot list

Linjekartor, historik mm